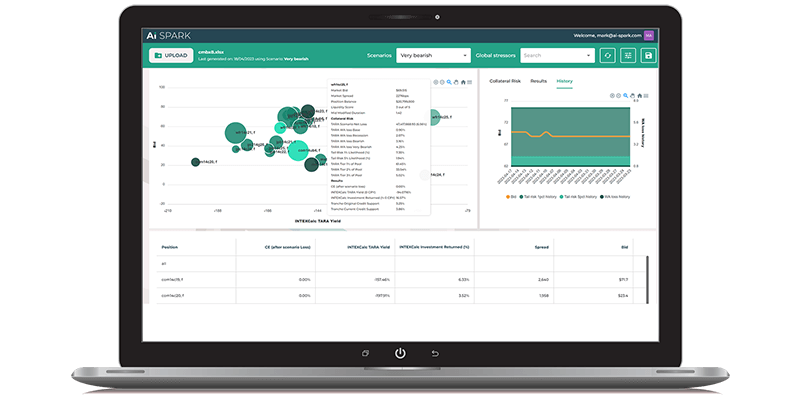 Ai SPARK Deploys Artificial Intelligence to Better Assess Risk in the $1 Trillion Corporate Debt Market
May 10, 2023
Ai Spark — AI-Driven Credit Risk Analysis Solutions
ai-spark.com
Credit ratings are at the heart of our financial markets and, when distorted, can have destructive effects on economies. In the landscape of financial markets, from a bank in Silicon Valley to toxic mortgage-backed securities, the honest and accurate pricing of risk is a cornerstone which, when compromised, can reveal the underlying weakness of a financial system, and bring negative consequences to society. At the root of these risks are broken incentives, moral agency problems and human biases.
Ai SPARK offers a robust Artificial Intelligence (AI) solution for credit risk analysis called Transparent Autonomous Risk Algorithm (TARA™), which redefines the structured finance industry by transforming raw data into actionable intelligence. Industry professionals use TARA for its unbiased predications, and to learn which data points influence historical and current performance. A continuous and iterative process allows TARA to produce clear, concise, and objective risk assessments. Assessments that empower users to make informed and faster decisions which lead to more stable and better performance.
Ai SPARK first deployed TARA in the Commercial Mortgage-Backed Securities and Commercial Real Estate marketplace, representing $610 billion in outstanding loans (according to Mortgage Brokers Association), and making TARA the only AI technology in the sector for traders, portfolio managers, analysts, and risk managers.
Building on that success, Ai SPARK, along with the world's largest market intelligence company and Intex Solutions, an industry-leading structured finance data supplier, formed an alliance to release the power of AI on syndicated loans backed by collateral. This corporate debt is known as Collateralized Loan Obligations (CLO) and the opportunity represents a market with $1 trillion in outstanding loans!
TARA™ CLO will instantly and continuously answer the questions that in the past required hours to research. Given dynamic market conditions, professionals working in the financial markets find the Ai SPARK application highly beneficial and relevant to their needs. The progression of this technology with its unique capabilities, supported by best-in-class talent, is getting a positive reception. Join us at the CLO Summit in December 2023, for the official release of TARA CLO.
"Ai SPARK is pioneering the next step forward in credit analysis. Its AI-based platform is built FOR and BY CMBS professionals and helps our team assess risk and adapt to changes in the macro environment faster than ever before. No other platform comes close."
—Asset Manager, Large US Bank
---