The Bootstrap Awards Are Back!
The TechTuesday team is pleased once again to host to the annual Ottawa Bootstrap Awards, returning to the live stage on Tuesday June 7th. Launched nearly two decades ago, the Bootstrap Awards are a grassroots program designed to recognize the outstanding achievements of local entrepreneurs who have built successful early-stage companies entirely through "bootstrapping" – self-capitalizing as opposed to seeking external investors.
The 2022 Awards will celebrate eight deserving winners, across categories for Green, Innovation, SAAS, Marketing, Bootstrap Capital, Disruptor, Community Impact and Founder of the Year. The Awards are co-presented by The Ottawa Network and Intellectual Property (IP) law firm Smart & Biggar, with support from community partner Invest Ottawa. We hope you can join us to celebrate these achievements.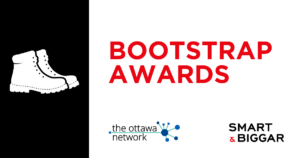 Register
Please register by June 3rd in order to help us plan.