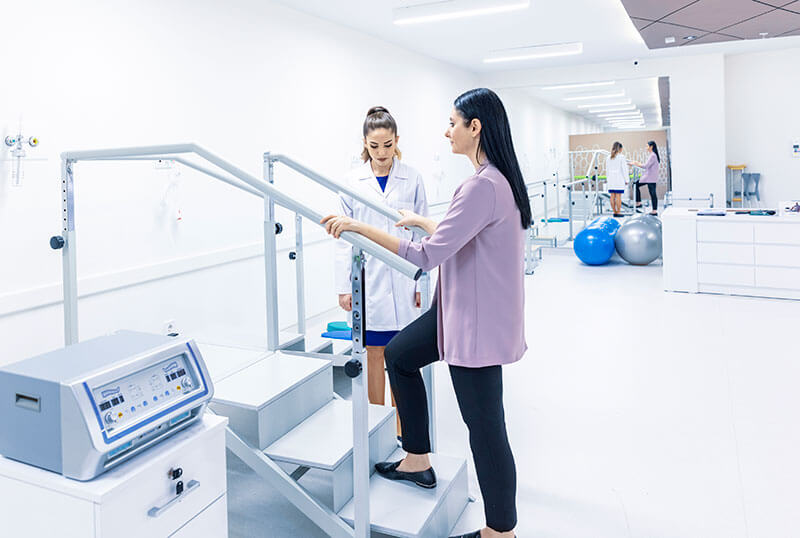 Award Winning Developer of AI-based Digital Biomarker for Multiple Sclerosis
May 10, 2023
Celestra Health Systems — The leader in AI-based monitoring of Multiple Sclerosis
celestrahealth.com
Ottawa-based health technology company Celestra Health Systems is advancing the treatment of Multiple Sclerosis (MS) through a combination of cutting-edge wearable technology, smartphone application software and cloud-based Artificial Intelligence (AI). The Celestra Health digital biomarker helps MS patients, clinicians, pharmaceutical companies and insurers by unobtrusively monitoring key disease indicators such as, gait and balance, as patients go about their daily lives, providing objective insights on the patient's condition that would otherwise be undetectable by established clinical tools. Celestra Health technology is equally applicable to a range of neurological diseases, including Parkinson's Disease.
An interview with Celestra Health CEO Bruce Ford
What gave you the idea to launch a company focused on Multiple Sclerosis?
Well, it was one of these fortuitous occurrences that can be traced to the early days of the COVID-19 pandemic. During the initial lockdown, my wife and I spent our Saturday mornings on our back deck, lattes in hand, discussing the challenges she was facing in her job as a MS neurologist. With my background in technology, it quickly became apparent that with recent advances in wearable technology and Artificial Intelligence, there was a significant untapped opportunity to develop a digital biomarker that would improve the lives of MS patients globally.
What is the specific problem that your technology addresses?
Many people with MS experience difficulty walking; it is estimated that 75% of people living with MS experience significant "disturbances" in their walking patterns. When asked, people with MS often indicate that walking is the most important factor in maintaining their quality of life. And as the disease progresses, it typically corresponds to a worsening of the patient's walking function.
By pinpointing exactly which aspects of a patient's walking movements are changing (such as changes to balance, differences between right and left leg movements, stiffness of specific muscles), our technology provides medical professionals with objective data to act as an early warning system for disease progression, to inform drug treatment decisions and to develop (and measure the effectiveness of) personalized rehabilitation programs.
It is worth noting that MS affects multiple functional systems, ranging from mobility (which includes walking, as well as strength of upper body and lower body), cognition, fatigue, bladder / bowel control, vision, speech, swallowing, sensation, mood, etc. So, we chose to measure aspects of MS with the greatest patient impact, starting with walking, we have also complemented our core walking focus with digital versions of validated clinical cognitive and upper limb dexterity tests.
How is a MS patient's disease condition currently assessed?
Typically, patients rely on their annual (or semi-annual) visit with their neurologist. The challenge for MS neurologists is that it is very difficult to accurately pinpoint where the patient is on their MS journey, within the constraints of a 30-minute visit. For example, given the important of walking, patients are typically asked to perform a 25-foot walking test; this involves walking across the room and returning as quickly as possible. However, by reducing the test to a single measurement (namely, the amount of time taken), there is a lot of information that is not picked up, with respect to stability, balance, foot dragging, etc. Furthermore, the effects of good days and bad days can skew the results by as much as 20%. MRIs of the brain are also heavily relied upon, but they are infrequently performed and costly; and often the white lesions that appear on the MRI do not correspond directly to the symptoms that the patient is experiencing. What MS neurologists require is objective data reflective of real living conditions; what patients are looking for is a way for this data to be captured in an unobtrusive and convenient way.
We've spoken to many CEOs of tech startups with a great storyline but turning the vision into reality can be a huge challenge. What would you say to a skeptical investor?
I would say that it all starts with the team. We've assembled a multi-disciplinary team of senior MS neurologists from Harvard (US), The Ottawa Hospital (Canada) and Barts Health (UK), a team of PhD's from the University of Ottawa's Department of Human Kinetics specializing in AI and biomechanics, and a world-class team of software developers who have created over a dozen smart phone applications, with over 30M active users. We have also created an advisory board of senior executives with experience running large global organizations, including global healthcare companies.
From a product perspective, we've spent two years developing a product that has been validated with patients in a state-of-the-art gait laboratory, with near perfect results. Throughout the product development cycle, we have worked closely with our team of neurologists, as well as a cohort of a dozen MS patients whose mantra is "nothing for us without us".
We have also engaged with leading MS organizations and MS pharmaceutical companies who have indicated that "we've been waiting for this type of solution for over three years". Based on the input we've received, we are confident there is a large untapped opportunity, with demand from global pharmaceutical companies, MS neurology clinics, Occupational Therapy (OT) / Physical Therapy (PT) practises and exercise specialist clinics.
Multiple Sclerosis seems like a narrow focus for a company, given it affects only 3 million patients worldwide, whereas conditions such as diabetes and Alzheimer's have patient populations in excess of 100 million. Can you elaborate on your decision to specifically target MS?
There were a number of factors leading to our decision to target MS. First and foremost, we were able to assemble a global team of some of the top MS neurologists in the world, spanning Canada, the US and the UK. Collectively, our neurologists have published over 1000 medical publications, including The New England Journal of Medicine and The Lancet; they have also served as Principal Investigators in over 150 clinical trials. }
Secondly, we were confident that our approach of unobtrusively monitoring patients under free living conditions would leapfrog the few competitors that are starting to target this space. We have a number of external proof points that validate the uniqueness of our strategy, including our selection by the UK National Health Service (NHS) for their prestigious $150K Digital Health Partnership Award, where we were 1 of 7 applicants selected from a pool of 120 applicants.
And finally, with 1M MS patients in the US alone, and the average annual drug treatment costs of $70K USD per patient, MS is a very large specialized market. The estimated lifetime cost of MS is $4M per patient, making it the second most expensive chronic disease in the US. It is also notable that unlike neurological diseases such as Parkinson's and Alzheimer's that are diagnosed in your 60s, 70s and 80s, MS is a lifelong condition that is often diagnosed in your 20s.
You've mentioned that Celestra Health is a software company, yet your product offering includes a highly specialized wearable device. Isn't this a contradiction?
It is true that our product relies on a highly specialized wearable device; namely, smart insoles. Smart insoles are similar in shape and size to "comfort" insoles sold at your local pharmacy; however, they contain pressure, accelerometer and gyroscope sensors that capture movement-related data that is securely transmitted via Bluetooth to the Celestra Health smartphone app, and then securely delivered to the cloud where our proprietary AI algorithms are applied to detect subtle changes in gait and balance. Our recent benchmarking activity has demonstrated near perfect correlation when compared to a multi-million-dollar state-of-the-art gait laboratory — we refer to our technology as a "gait lab in a shoe".
With 30+ years' experience working in the telecommunications sector, how did this prepare you for your role leading a healthcare technology company?
Throughout my career, I've held positions in Engineering, Product Management, Marketing and Sales. In my previous role as a Senior Executive at a NASDAQ software firm, I built a multi-million-dollar cloud-based Software as a Service (SaaS) business from scratch, establishing partnerships in 25 countries; we achieved a 25% quarter over quarter growth rate for 12+ consecutive quarters. By coupling my product and business experience with the medical expertise of our team, we have managed to cover all the bases.
But I would be remiss if I didn't mention my initial surprise with typical timelines in the healthcare sector — given the level of approvals and certifications required for clinical trials and commercialization activities, it takes considerably longer to bring a healthcare product to market than anything I've previously experienced. It has been an exciting journey thus far, and we are very pleased with the position we find ourselves in, with a product now ready for our upcoming Phase II clinical trials.
Every successful company has its own "special sauce" that is used to provide a sustainable competitive advantage. In the case of Celestra Health, what is yours?
While all aspects of our product are critical, our "secret sauce" is the collection of AI algorithms that we've developed, based on the University of Ottawa's pioneering research in the area of MS gait analysis. We've now filed a broad scope patent application that encompasses a number of key innovations, including recognition of specific walking patterns that are common amongst MS patients, automatic detection of assistive walking devices such as foot braces, canes and measurement of the effects of walking fatigue. These inventions will provide medical specialists, as well as the patients themselves, with insights on MS disease condition that would otherwise be undetectable by established clinical tools.
You've previously talked about the ambition of Celestra Health to be a global company right out of the gate; can you elaborate on this?
One of Terry's cardinal rules is to always think global. In the case of Celestra Health, our headquarters are in Ottawa, our largest markets are, in order of size: the US, the UK, Germany and France. Our upcoming Phase II trials will be conducted in Canada, the US and the UK, and we have deep ties into each of these markets. We also have partners in Germany and France, making it a natural next step for us to take. Of note, our recent patent application has been filed for all of these markets.
What role has Wesley Clover played in the formation of Celestra Health, and how do you expect your relationship with Wesley Clover to evolve over time?
We are currently a division of Wesley Clover International, but now that our product is ready for our upcoming Phase II clinical trials, we've made the decision to spin out. By June, we will be an independent company, which will provide an opportunity for early-stage investors to join our team. Going forward, we will remain tightly connected with Wesley Clover, and plan to work closely with the Wesley Clover teams throughout the world.
What are your goals for the company for the next 12+ months?
Over the next 3 months, we plan to complete our spin out from Wesley Clover, to coincide with the launch of our Seed Investment Round. In addition, we plan to commence our Phase II multi-centre trial, starting with patients at The Ottawa Hospital. We are also forecasting our first revenues for a paid trial in the UK. And finally, we are applying for a large multi-year grant from the International Progressive MS Alliance.
In 2024, we plan to formally launch our commercial offering in the US and UK; we are also taking steps to expand our offering to address other chronic neurological conditions, including Parkinson's Disease.
---