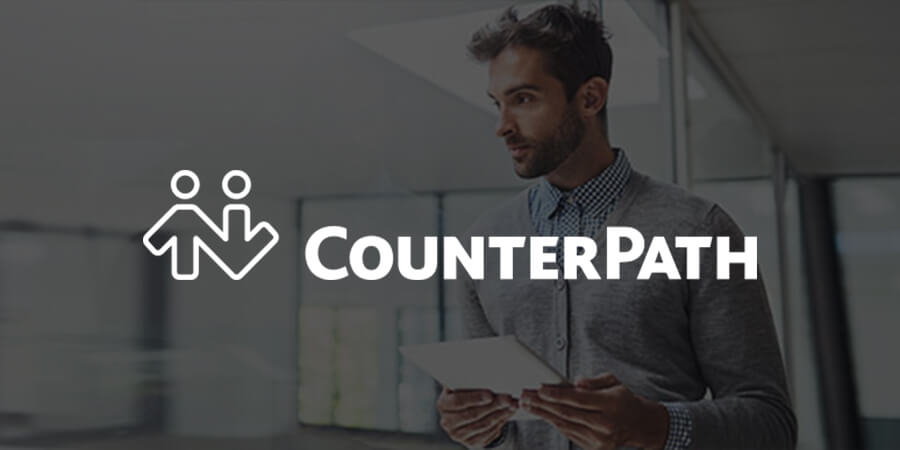 CounterPath Announces Double-Digit Sales Growth
October 25, 2018
CounterPath (NASDAQ: CPAH) (TSX: PATH), provider of leading Unified Communications (UC) solutions for enterprises and service providers, released fourth quarter and fiscal 2018 financial results during the Quarter, showcasing double-digit growth in revenue and record growth in recurring revenue. Subscription, support and maintenance revenues grew to $4.3 million, representing 35% of total sales for fiscal 2018 and 43% of total sales in the fourth quarter.
The company focus for FY2019 is to continue driving recurring revenue through enhanced offerings for service providers and the continued migration of existing customers with perpetual software licenses over to subscription-based services.
CounterPath made several significant customer and partner announcements during the Quarter. One agreement with a Tier 1 North American service provider will offer a solution built on the Bria UC app for end-user devices and Stretto™ Platform for provisioning, messaging, user analytics and synchronization. The contract has a minimum value of $1.8 Million over a three-year period.
A longstanding contact center customer signed a new deal for hosted Stretto Platform Services for provisioning, voice quality monitoring, and remote support of its large deployment of Bria softphones. CounterPath also strengthened its partnership with Oracle Communications by developing a joint UC cloud solution with the company. The solution interoperates seamlessly between communications systems, devices and legacy infrastructure to enhance enterprise communication capabilities. It fills a gap in the UC user experience by introducing an "Always Connected" state regardless of location, device or network.
CounterPath also had several important product releases over the period: Stretto Collaboration, a cloud-based service which integrates voice, video, messaging, presence and team collaboration services seamlessly; Stretto Platform™ 2.0 featuring support for premises-based push notifications, cloud-ready installations and usability enhancements; Bria for Saleforce® update to support Lightning and integrate any communications platform with business process and customer management services.
CounterPath continues to evolve its leading cloud-based product portfolio, its global partner distribution network and its satisfied, subscription-services customer base. The company is confident they have the team, the technology and the strategies to keep these trends going. counterpath.com
---