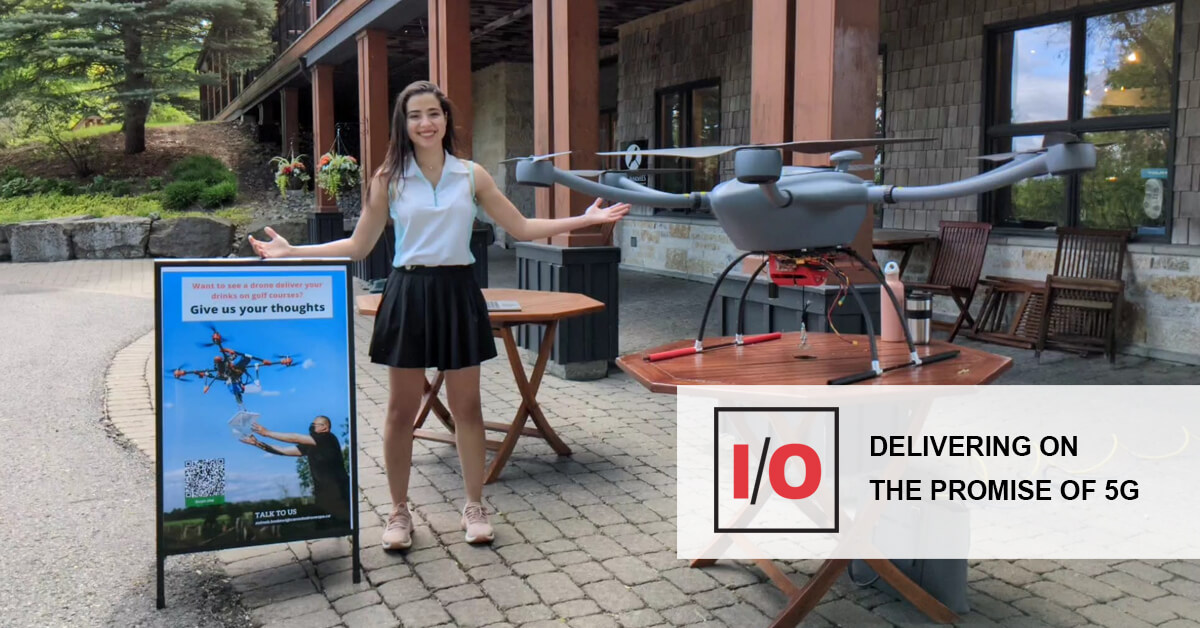 Delivering on the Promise of 5G
September 22, 2022
Insights on how 5G and edge computing fuel next-generation applications
5G is picking up speed, both figuratively and literally. According to Precedence Research, the global 5G services market size is projected to surpass US$ 1.87 trillion by 2030.
The adoption of 5G networks and the combination of 5G capabilities and other enabling technologies, such as multi-access edge computing, result in a tremendous number of possible new use cases across many verticals – from smart cities to autonomous vehicles, industrial automation to 5G drone surveillance and more.
As TELUS thought leader, Amy Karam, highlighted in our latest Investor Newsletter: "The unique technical functionality that 5G promises is indeed impressive: exceptionally faster speeds (up to 10X faster than 4G/ LTE) with expansive bandwidth and capacity; ultra-low latency with goals of less than 10ms of latency/delay and the promise of 99.999% ultra reliability; massive IoT capacity that will support more than 1 million IoT devices in 1 square KM."
Recognizing the potential and fostering local innovation to showcase the art of the possible, Wesley Clover partnered with the University of Ottawa to support a team of students in developing a drone logistics delivery platform. The team branded themselves Kirality, and operated over the summer out of a facility in the Kanata North Technology Park. Leveraging the local TELUS 5G network, Kirality designed their solution to provide fast, safe and reliable transportation of a variety of goods, including first aid supplies and others, in a cost-effective and environmentally friendly way.
One showcase application is an automated food and beverage delivery service at The Marshes Golf Club. While proving the capabilities of this sort of technology use case, the service also helped the golf course address a post-COVID staffing shortage and enhance member and guest experiences. Trials of the service took place throughout the summer and debuted for the full community at the recent KRP Properties Red Dragon Golf Tournament.
The faster speeds and bandwidth capacity of 5G networks allow operational data to be collected by the drone and then offloaded to edge computing servers that return instructions on all actions that need to be taken, all in real-time. The result is what we all expect, even on a golf course – extremely fast and reliable service. "It's a 3-minute turnaround time per delivery", explains Kirality Co-Founder, Mohammad Abu-Shaaban. "Players don't love waiting for a beverage cart when golfing. Real-time service improves the customer experience and can help drive revenues as well as reduce overhead costs."
Bandwidth consumption across public cellular networks is minimal as a direct result of the edge computing technology the Kirality team incorporated. Mohammad adds: "Our drones can be accessed worldwide regardless of the proximity from the ground control station. This gives us the ability to conduct remote updates without the need to be on-site."
Another interesting fact the Kirality team shared is that their drones are no longer limited by Very High Frequency (VHF) and Ultra High Frequency (UHF) radio wave travel distances, resulting in a theoretical unlimited flight range. Kirality is also utilizing the 5G networks to stream HD video (1080p) at 30 Frames Per Second (FPS) from the drone to the remote desktop for easy First Person View (FPV) access, which – according to Mohammad – would have been nearly impossible to achieve with a 4G modem.
"Mobile Edge Compute (MEC) plays an integral part when it comes to 5G drone delivery services", explains Arda Ozgun, VP Product Management at Wesley Clover. "MEC enables true autonomy for drones and other connected devices. For Kirality, 5G enables super fast edge compute where processing for vision can be performed to do things like foliage/bird detection and avoidance or identify the right person for their delivery service. Previous generations of network just wouldn't support the latency or bandwidth requirements."
More than 225 flight hours and 200 successful deliveries were completed by Kirality at The Marshes Golf Course, and the opportunities for new use cases continue to flow in. Among other projects, the team is now collaborating with TELUS and Unmanned Life to test their Autonomous Drone Surveillance solution in the Kanata North Technology Park. Using drones equipped with video cameras, live aerial footage is streamed over the 5G network and analyzed by the Unmanned Life computer vision algorithms to detect trespassing or other unwanted behaviour. Such footage is then relayed to the security control center for operators to determine the appropriate actions that need to be taken.
As 5G continues to enable further technology innovation, visionaries everywhere are embracing its possibilities. 5G will accelerate the uptake of IoT applications and services worldwide, fueling next generation applications and driving economic growth, or – in the case of Kirality – taking drones to new heights. Wesley Clover is happy to be along for the ride…
To learn more about Kirality, visit canadadroneops.ca.
Wesley Clover invests in a range of technology companies, and they bring impressive innovation to markets and clients around the globe. I/O is our way of sharing some of the best insights. I trust you will enjoy them.

Terry Matthews, Chairman
---