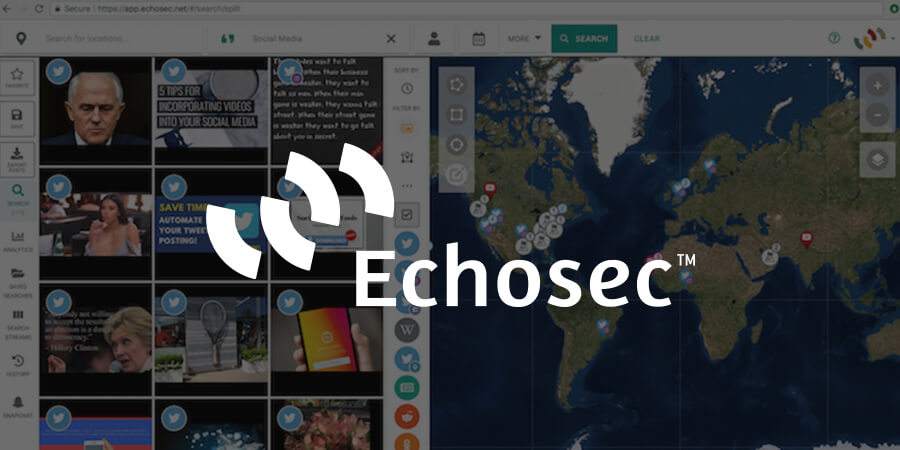 Echosec Advances Business on Multiple Fronts during Quarter
October 25, 2018
Echosec continued forging new business relationships for its location-based online intelligence platform during the Quarter. Among the data providers added to the software are Pinterest, Tumblr, 4Chan, OK.ru, Medium and Webhose. This increasingly diversified network of information sources is solidifying Echosec as a tool for comprehensive location-based online intelligence as well as social media insight.
Several new software features are enhancing that market position. For example, users can now sort the feeds retrieved by the platform according to reach and influence. This enables them to discover the people and topics that are getting the most traction across those feeds. In the age of influencer marketing, this is a feature in demand by independent brands and service agencies.
The Enterprise user dashboard tracks all information searches and identifies which are trending upward or down. This visualization is key for business intelligence and financial analysts who need a real-time perspective on their assets and investments. The company recently secured an agreement for more than 100 such Enterprise licenses with a private organization in the U.S., making it the largest deployment do date.
In August, Echosec launched 'The "Real News" Project', with the title positioned intentionally as an alternative to the term so prominent in the media today. The campaign is designed to get the software into the hands of prominent journalists and freelance reporters, assist them with intelligence gathering and news verification, and thereby prove the value of the software as a powerful journalistic tool. News stories from these users will then amplify the reach of the brand into what is a new market for the company.
Echosec also signed two new reseller agreements during the Quarter. Both are of the 'international' variety — the first with Japanese group Next IT and the second with Radiosphere in Germany. Adding these developments to the product and business accelerators noted above, the company is seeing its Monthly Recurring Revenue (MRR, a key SaaS corporate performance indicator) continuing to grow, and move well into the range that positions a firm for significant external investment. We will monitor developments on that front closely. echosec.net
---