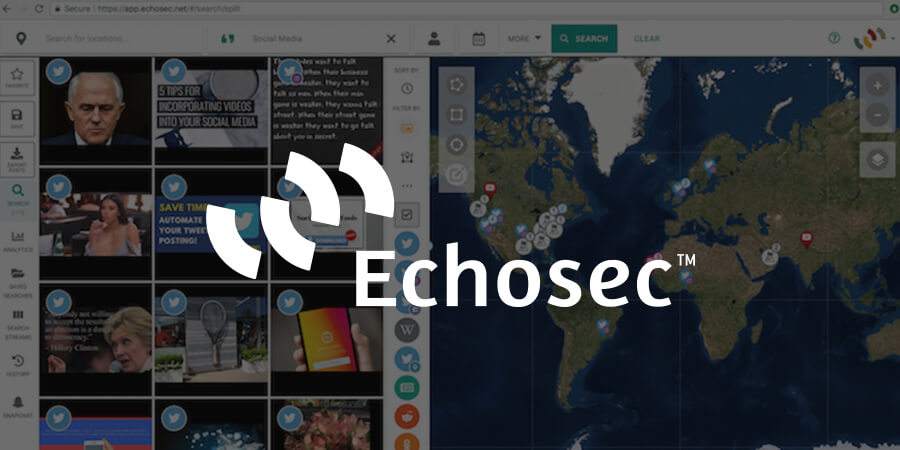 Echosec Continues to Raise Its Profile
November 11, 2019
The past Quarter saw portfolio company Echosec make solid progress in terms of PR and partnerships in the areas of Digital Risk Protection and Threat Intelligence. The platform offered by the company combines data monitoring and automated response procedures that alert organizations to online material that could represent a risk to their business. By gathering and extracting data from online sources that include the Darknet (the hidden, illicit side of the Internet), the software exposes the broadest range of threatening activities and provides the data that is most relevant for security teams and public safety organizations.
As emerging leaders in this area of cybersecurity research and development, the team at Echosec are now often called upon for comment on industry developments and storylines. Executives at the company have responded recently to interview requests from:
CBC
Betakit
Loss Prevention Magazine
Canadian SME Magazine
Chief Information Security Officer (CISO) Magazine
Financial Post
This industry leadership position also led to some new partnerships for the company. Webhose is the leader in turning unstructured web content into machine-readable data feeds. Under a new agreement this Quarter, Webhose data will now be used to improve the ability of the Echosec platform to detect cybersecurity threats that are targeting physical assets, information and individuals. This will enable clients to search the hidden web even more quickly and efficiently, and filter data found there by category, date, originating URL, author and other advanced filters. These features will place clients at the leading edge of such cybersecurity defenses.
The company continued to see strong growth on most metrics over the Quarter, including in contract numbers and individual values. This resulted in the need for further non-dilutive operating capital. TIMIA Capital was selected to assist, and provided an attractive new $2.0M financing facility to work with. The team at TIMIA has been a valued partner of the company for several years now, and once again we thank them for their expertise and help. And with this financing vehicle in place, the company is well positioned for continued growth as we move through the next Quarter. Look for another update in the next issue of Q. echosec.net
---