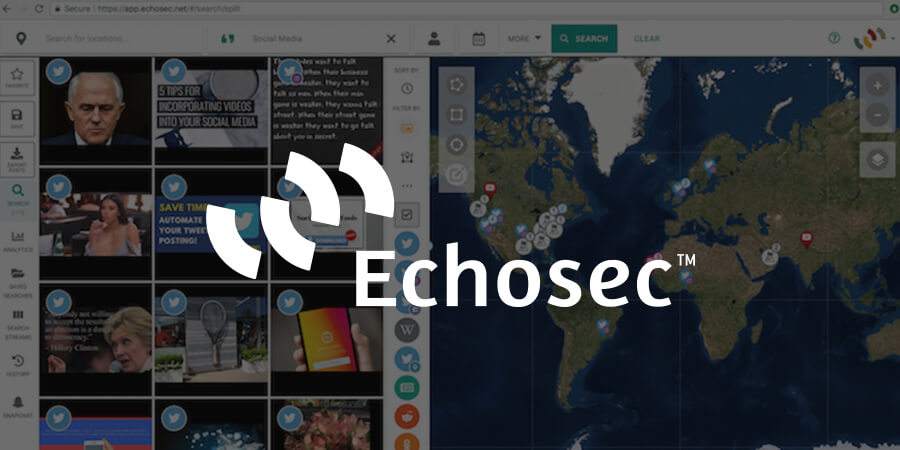 Echosec Progress And Growth Result In Successful Portfolio Exit
April 5, 2021
What started as a tool to map social media use around a Canadian university campus has evolved into one of the most advanced digital threat intelligence software solutions available. And the company behind it, Echosec Systems, now counts many influential organizations as customers, providing them with tools and services that make hidden online data more accessible and actionable.
When Echosec joined the Alacrity Canada ecosystem in 2015, the team was supported with hands-on entrepreneurial mentorship through their early growth. Applications for the new security software were various, however the company listened to their first customers and the concerns they were expressing about an emerging new realm of exposure — the dark web.
"You need the confidence to say 'no' to certain ideas and to drill down and keep going on the best ones", said Paula Hingley, Director of Marketing at Echosec. "The deeper you go into a particular niche, the more mature you become in that space. This led us to develop something unique and valuable."
This focus, trust and hard work has paid off. Over the last twenty-four months, the company has achieved 100 percent year-over-year business growth and tripled the employee count. The software now provides clients with unmatched capabilities for navigating the hidden corners of the internet and discovering potential threats of both a digital and physical nature. The features enable businesses to access in real-time billions of online posts from a variety of social media channels, news feeds and discussion forums, including those on the dark web. They enable real-time analysis, assessment, and where warranted, responsive actions.
Just one click takes investigators such as in-house security teams, intelligence agencies or government departments from a Twitter account profile to a dark web forum and beyond. This seamless transition is increasingly important as cyber attacks and data breaches continue to rise. During the final months of 2020, Echosec software was actively tracking 30 million or more social media posts and 10 million or more dark web posts.
As the world of cyber and related crime grows, so does the value of defensive tools. And as a result, in a U.S. private equity deal, Echosec Systems has now taken the next step in their corporate journey. The company has been acquired, by California-based investment firm The Tusker Fund. From startup to exit, this is the latest Alacrity and Wesley Clover success story, owing to strong leadership, technology and guidance, and the confidence to focus on what customers are asking for.
You can continue to follow the progress of this emerging industry leader on their website: echosec.net
---