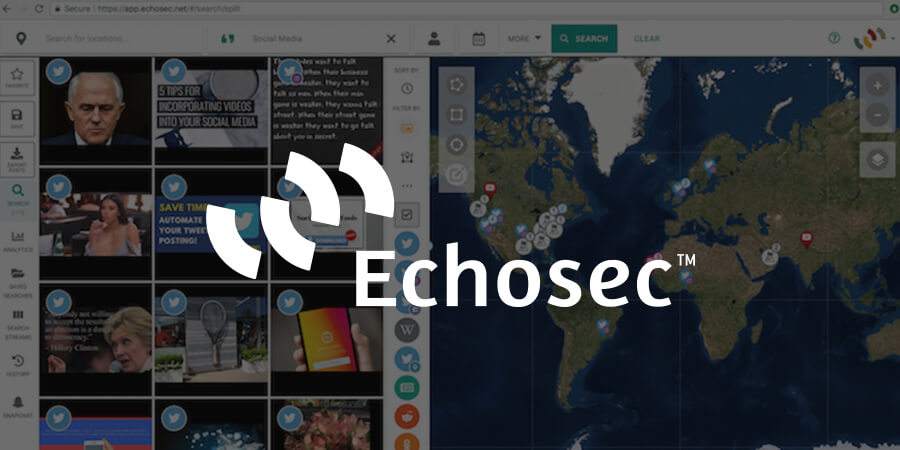 Echosec Shines Light on the Darknet
April 26, 2019
This past Quarter, the team at Echosec added a major new offering to their SaaS portfolio. In addition to the existing location- based social media data aggregation and intelligence platform, the company launched 'Beacon', a proprietary new search tool that enables users to navigate the Darknet quickly and easily.
Darknet is an umbrella term used to describe the encrypted portions of the Internet not open to public view, as well as hidden networks whose architecture is superimposed on top of the Internet. It is considered by many to be part of the Deep Web, and is often associated with illicit online activities such as hosting unsavory or illegal information, facilitating the sale of restricted goods such as arms trading, or hosting illegal marketplaces such as the infamous Silk Road online drug bazaar. On the other hand, it is also used to protect online dissidents from political reprisal, facilitate news leaks or whistle-blowing, and circumvent government imposed network censorship.
The Darknet is architected to listen to and receive information from the open Internet, and enable the exchange of messages and other content, but to do so anonymously. The computer servers connected to the Darknet don't appear on any network lists and don't respond to detection techniques such as pinging or other inquiries. As a result, they remain 'hidden' or 'dark', and the content they contain cannot be indexed or searched in any of the established ways.
For legitimate enterprises, this can represent an area of online exposure and threat. Echosec has designed Beacon as a powerful tool to investigate and mitigate such threats. Beacon is an extension to the existing Echosec platform, and is a fully indexed Darknet search engine with a user interface similar to that of Google. It operates without the need for the existing Tor Darknet browser.
Beacon is the most recent addition to an Echosec portfolio focused evermore on the Enterprise customer. And this strategic shift has resulted in an impressive 340% growth in company revenues over the past year. To keep this momentum going, the team is busy with a full conference schedule over the next Quarter, exhibiting at RSA San Francisco, presenting at the ESRI Canada Security Summit in Ottawa in May, and exhibiting at the NRF Protect conference in Anaheim in June. Offering a dynamic, online data intelligence engine with the ability to surface key data from social media posts, blogs, news feeds and now the Deep Web and Darknet, the Echosec message is definitely making waves. We expect to share more strong results going forward. echosec.net
---