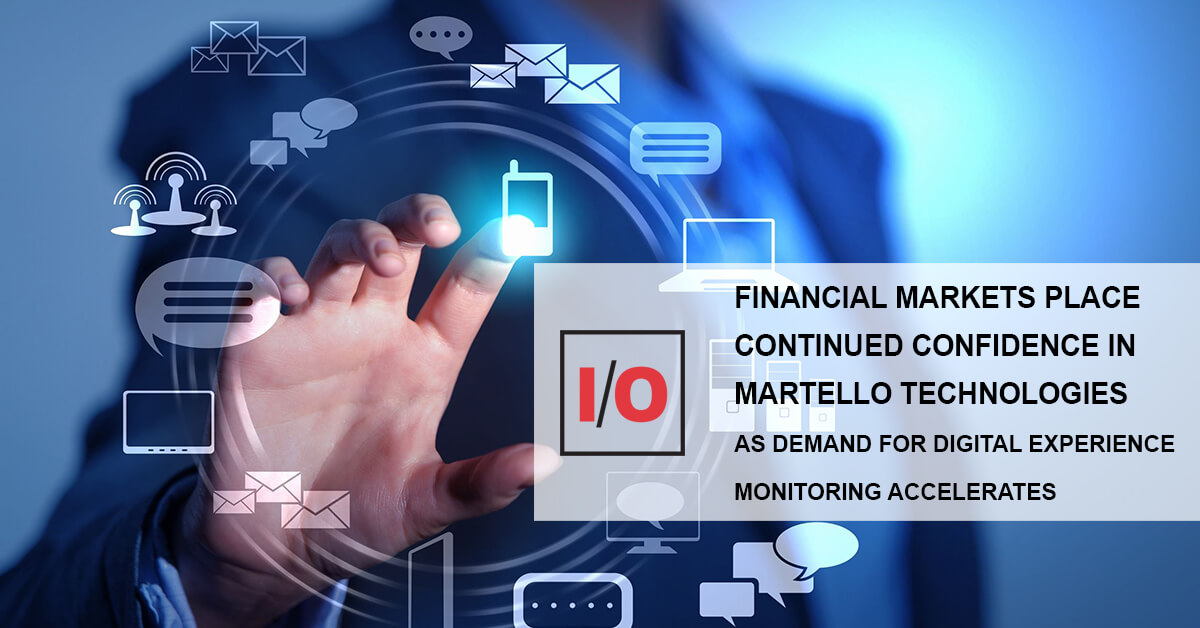 Financial Markets Place Continued Confidence in Martello Technologies as Demand for Digital Experience Monitoring (DEM) Accelerates
March 26, 2021
Company closes another $5.75M share offering, led by Paradigm Capital
The shift to working from anywhere, combined with a lack of advanced quality assurance tools in SaaS applications, has created an ongoing surge in the need for Digital Experience Monitoring (DEM) capabilities – software solutions that test, alert and report on the complete end-user experience being provided by enterprise applications to users inside and outside the corporate network. Although many employees will return to the office as economies reopen, hybrid work models are here to stay. And as a result, the user experience for everyone is becoming a critical priority for CIOs.
Gartner predicts that, "By 2023, 60% of digital business initiatives will require I&O (Infrastructure and Operations) to report on users' digital experience, up from less than 15% today." Unfortunately, as more and more services are being delivered via cloud and external network infrastructure, I&O teams have less visibility and control of that total experience. Tools to address this shortfall and provide real-time, end-to-end DEM are essential, which is why the global end user experience monitoring market is expected to reach US$3.7B by 2023 (source: Research and Markets).
Portfolio company Martello Technologies (TSXV: MTLO) is well positioned to seize this opportunity, providing DEM solutions that include unified communications performance analytics software, Microsoft 365 user experience monitoring software and IT analytics software. Such end-to-end monitoring solutions provide the key insights needed into enterprise apps, their performance and what all end users are experiencing.
More than 1 million enterprises globally now use Microsoft 365 (source: Statista), generating more than 30 billion collaboration minutes in a single day (source: Microsoft Q1, 2021 earnings). As of December 31, 2020, there were 2.17M Microsoft users already taking advantage of the Martello DEM platform, and that number is expected to grow as the market does. Faith in this growth was expressed recently by financial markets in the form of another $5 Million public share offering led by Paradigm Capital, an "independent institutional equity investment dealer focused on sectors and companies that have attractive long-term secular growth prospects".
According to Paradigm in a February 19, 2021 report, "We view Martello as an attractive way for investors to gain exposure to the emerging Digital Experience Monitoring Space. Martello is one of the few true SaaS companies in the small-cap space with over 90% gross margins and over 90% recurring revenue.".
The funding round also included other key investors. According to Martello CEO John Proctor, "The primary shareholder of GSX has increased his investment. He told me, 'I like that you're doing what you said you'd do'." Martello Co-Chairman Terry Matthews also increased his investment, and commented on the evolution of the company, "We began Martello working with Mitel, the company that created the original framework for real-time communications in the cloud with unified communications. And now we do this for Microsoft, and it all comes back to the performance and quality of that network. We are absolutely right on track here."
DEM solutions from Martello give organizations the tools to understand and improve the experience of key cloud collaboration and productivity solutions for all their users, helping maximize productivity and profitability. Visit martellotech.com to learn more.
Wesley Clover invests in a range of technology companies, and they bring impressive innovation to markets and clients around the globe. I/O is our way of sharing some of the best insights. I trust you will enjoy them.

Terry Matthews, Chairman
---