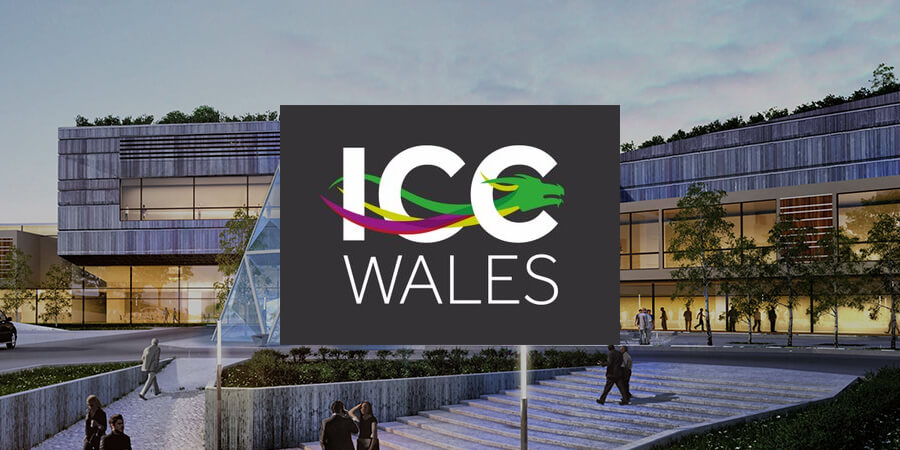 ICC Wales Embracing New Technologies to Maximize Guest Experience and Operational Effectiveness
April 26, 2019
Convention Centres are in the business of marrying appealing events and guest speakers with volumes of attendees and commanding not-trivial prices for the opportunity to take in the show or present a company brand to the assembled crowds in order to drive commercial engagement. But are the Centres themselves doing all they can to maximize the value delivered in these guest experiences and engagements?
The state-of-the-art International Convention Centre Wales (ICCW) is working hard to ensure it does deliver that value. The venue is being built/finished with conference technology at its core, embedding new event-related features and applications into the infrastructure from the start.
During the facility design phase, ICCW management consulted with conference organizers around the world to identify and understand the most important Key Performance Indicators (KPIs) associated with successful events. The answers formed a playbook with which to operate the new facility, and drove a commitment by the team to become recognized as 'best-in-class' in functions and services that included:
Pre-event booking services
Parking optimization
Transportation logistics management
Delegate count monitoring
Queue length monitoring
Wait time management
Lecture/presentation timing management
VIP concierge services
Security services
Overall guest 'journey' tracking, and more
Consider for example the movement in and out of the facility of guests, exhibitors, staff and others. Visitors to large venues are often left asking "Why are the lines so long?" or "Didn't they plan for crowds of this size?", or similar but less-polite questions. Such situations are not always easy to tolerate at important or costly events.
Technologies such as that available from Solink help address these issues. A network of artificial intelligence and 3D cameras are being installed at the ICCW to constantly monitor the flow of delegates through the facility. It begins at the taxi drop-off and pick-up area, where the spaces and vehicle flow will be managed carefully, and it includes the registration areas where lines and crowds will be monitored to reduce wait times. The system recognizes and even 'anticipates' high traffic situations based on aggregated data, and keeps human operators informed and prepared to react. Higher rates of people movement trigger predefined responses such as real-time messaging on facility signage, as well as alerts to staff mobile devices to adjust resource allocation.
The Solink technology is being augmented with that from portfolio company Teldio. Heat map features from Teldio provide visual representations of people movement at given locations, identifying pinch-points for example, and enabling more effective pre-event planning as well as real-time adjustments of layouts, displays and other infrastructure. Specific assets or whole areas of the facility can be identified digitally as 'secure' or restricted, and Teldio tracking beacon technology will alert staff to unauthorised approaches to these areas. The Teldio software integrates into existing infrastructure and provides efficient communication between organisers and staff who are connected using wireless radios as well as those using SMS or other instant messaging.
Staff and volunteer management at the Centre are also being enhanced through the use of software from InitLive. The SaaS platform and mobile device app lets event managers plan, prepare and execute their business, community and other events more easily and successfully. Features inherent in the tool help organisers register the volunteers they need for an event, schedule and manage the shifts for these resources, alert individuals or groups digitally (over their smartphone) to any changes, issues or emergencies, and report after the event on overall performance for future planning.
Increasingly, delegates today look for event information pertaining to registration, content agendas and other proceedings through their smartphones. Conferences now create bespoke mobile applications to manage this customer engagement and exchange of information. Evidence shows that the importance of these apps continues to grow. However, one shortcoming is the limited ability to connect guests to live (human) support services to address individual questions, concerns or requirements. This is particularly important with higher-end offerings such as VIP Concierge Services.
Talkative provides software that the ICCW will promote from the start as an essential add-on utility for all conference apps. The real-time web-chat functionality is embedded into the app in seconds and enables live communication between conference delegates and a team of specialists so that queries are responded to and resolved as quickly as possible. App users are offered a choice as to how they wish to communicate. In a noisy venue, text-chat may be a quick and appropriate method, but other times video chat, perhaps to translate signage or help with ongoing travel, may be more useful. And it is all centralised within the original conference app to keep things simple.
Monitoring and analysing real-time guest sentiment during a conference itself generates unique and very valuable feedback for event organisers. It enables rapid response to any issues, and feeds into active public relations and news generation strategies. Technology from Eyesover and Echosec leverage publicly accessible social media and online data feeds to monitor and understand guest trends and opinions in real-time. Armed with this data, artificial intelligence analyses a venue to compile reports of positive and negative impacts, event influencers and common opinions. Understanding how the event logistics, content, schedules and other characteristics are being received by guests allows organisers to react in the moment as well as adjust future plans. For example, being able to address any less-than-desirable situations before any guest opinions go viral adds a level of message management and control not otherwise available.
The ICCW is investing in technologies such as these and others to help ensure the KPIs identified earlier remain at a best-in-class level. These are investments in making the event 'journey' a positive one for guests, and the events themselves as successful as possible for the organisers and staff who bring them to the facility. The doors will be opening soon. We look forward to reporting on the results. iccwales.com
This article was from a blog by Paul Bailey, Marketing and Design Director, Wesley Clover Innovation Centre, UK.
---