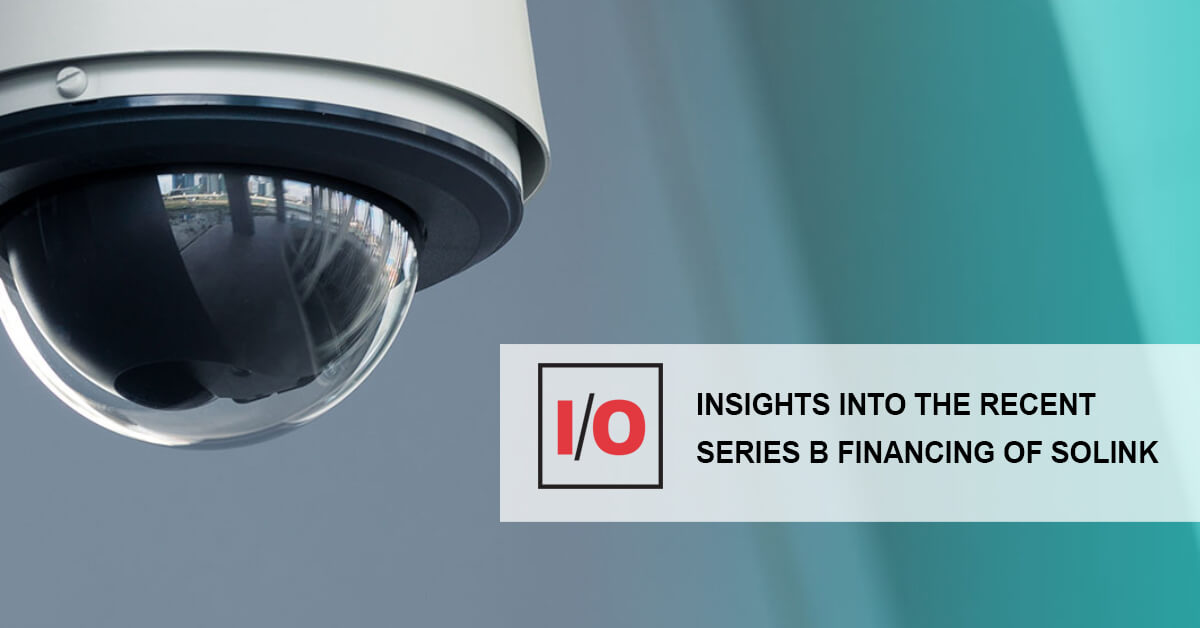 Insights into the Recent Series B Financing of Solink
July 13, 2020
With Commentary from OMERS Ventures Partner, Laura Lenz
Portfolio company Solink, a leader in video security and data analytics, recently closed a CAD$23 million Series B funding round led by OMERS Ventures – the venture capital arm of one of the largest pension funds in Canada. What were the drivers for this investment, and what does it mean for the company and for OMERS? I wanted to share the following from a conversation I had with Laura Lenz, the partner who led this deal from OMERS.
Based in Toronto, Laura leads investment activity in Canada for OMERS. Laura has more than 15 years of venture investing experience, including prior roles as a Partner with Generation Ventures, an Investment Director with MaRS Investment Accelerator Fund and a Principal with EdgeStone Capital Partners.
Laura has been connected to Solink since well before this latest financing round. She previously led the $5M seed round while at Generation Ventures in 2017, and subsequently served on the board at Solink.
Investment Driven by Customer-Centricity and Metrics
Winning business often depends on being able to listen to customer demands better than your competitor and making sure that you know those competitors well. Solink has built the customer voice into every business review and decision since being founded in 2010. The result? The metrics speak for themselves:
100%+ year-over-year growth
Industry leading Net Dollar Retention rate
Industry leading Net Promoter Score (NPS)
Virtually no churn
Laura explains: "The best-in-class B2B SaaS companies have an NPS of at least 55 and the average B2B SaaS company is 40. Solink blew those metrics away last quarter." She continues: "I've known Solink CEO and Founder, Mike Matta, for many years. Seeing the impact that his customer-first ethos has on critical metrics, like churn, reinforces our belief that this team will continue to thrive."
According to MarketsandMarkets, the global video surveillance market is expected to grow from USD$45.5 billion in 2020 to USD$74.6 billion by 2025. This market is getting "cloudified", not only in terms of moving video to cloud storage, but also by enabling easy accessibility to and management of that video. This new model is now called Video Surveillance as a Service (VSaaS). VSaaS allows the 100's of millions of cameras that are recording security footage globally to leverage artificial intelligence (AI), increase accessibility and consumption, and ultimately make video more valuable and actionable. Solink purpose-built its video platform in a VSaaS architecture from day one. That allowed for easy collaboration, mobile access and a fully monitored and managed solution, including as a service from the Solink Security Operations Center.
Further, Solink always believed that video should lead to tangible action (reduce risk, stop theft, alert stakeholders, etc.), so the platform ties business-specific data – transaction data from Point of Sale (POS), ATM and teller information, alarm systems, other sensors – to corresponding video data easily. Solink initially focused on data systems that touched payment activities, but the need to correlate operational information or be able to make queries and see results led the team to also integrate with systems such as inventory, time tracking and warehouse fulfillment platforms.
"Our goal when we built Solink was to offer any organization, from individual store owner to senior executives, the ability to ask any question of their business, and use data and video to get a complete answer," said Mike Matta. "This next phase of our growth will allow us to integrate more data to help brick and mortar businesses innovate and scale."
Solink now integrates with more than 100 different data connectors and ingests over 120M records a month. The net effect has been the creation of a business intelligence tool as much as or more so than a video platform.
Impact of COVID-19
The Novel Coronavirus pandemic forced business owners to adopt new behaviours, including managing their businesses remotely. As a result, the Solink cloud platform saw a 70% increase in usage during the first weeks of lockdown. To a previous point, the team once again focused on supporting specific customer needs arising from this environment – building a new video alarm service, adding new integrations for auditing social distancing, enabling remote 'temporary access' for people who would otherwise require on-site visits, introducing expanded cloud storage as well as AI search capabilities to detect and count people and vehicles. This was done over a span of three months at no-added cost to customers.
The Solink response to the pandemic – understanding changing customer needs as well as building, launching and marketing new features in just weeks – is a further testament to the dedication and skill of the team.
Going Global
Solink will use the investment to deepen its relationships with existing customers and partners, as well as to focus on product expansion and continued innovation. In aggregate, Solink processes and stores about 1,250 hours of new video every minute (3x more than YouTube!). This means that literally millions of hours of video are captured by customers every day, but it is not all being analyzed currently. This presents new opportunities for Solink to marry new data streams with that video and create even more value.
Solink is already trusted by global retail, restaurant, hospitality and financial brands – including Restoration Hardware, Tim Hortons, Chick fil A, &Pizza, Five Guys, GoPuff and Axcess Financial. The company also plans to expand into new verticals and geographies. This is a natural and welcomed phase of growth, but when is the best time for a business to go global, and what are some of the keys to success? Laura again shared her insights by stating that the following critical questions should be asked and answered:
Are key metrics met (including NPS, local profitability, Customer Lifetime Value to Customer Acquisition)?
Have the products been tested? Test, tweak and adapt products and services in the local market to ensure the offering is right before expansion.
Is the playbook repeatable in each geography?
Can you demonstrate organic customer growth in your local market?
Do you have the right leadership and team in place to go global?
Laura concludes: "Solink has the technology and the team to become a global success story far beyond where it is today. Mike and the team have built an impressive, high-growth, customer-focused business with exceptional product-market fit, and we are really looking forward to being a part of their success story."
We could not have said it better ourselves. Visit the Solink website to learn more.
Wesley Clover invests in a range of technology companies, and they bring impressive innovation to markets and clients around the globe. I/O is our way of sharing some of the best insights. I trust you will enjoy them.

Terry Matthews, Chairman
---