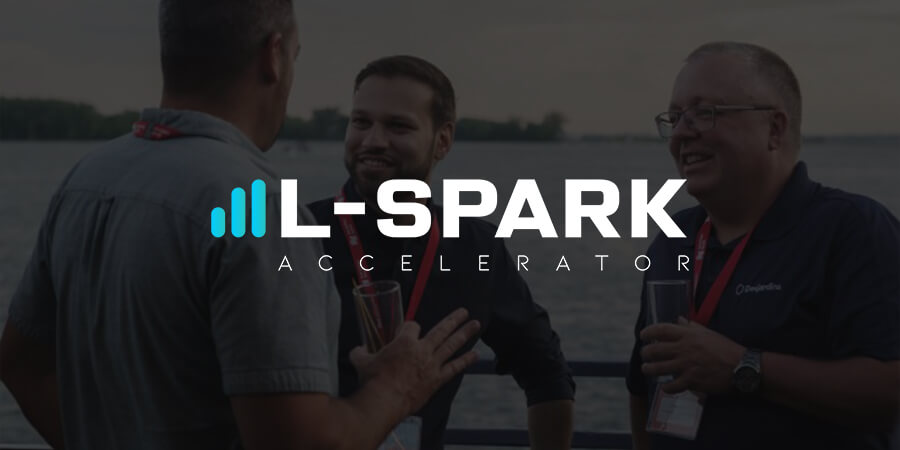 L-SPARK Recruiting for 10th Cohort of SaaS Accelerator
August 21, 2023
L-SPARK — Enterprise SaaS and corporate accelerator l-spark.com
It's that time again when L-SPARK begins recruiting for its highly successful SaaS Accelerator cohort. Now in its 10th year, this program has supported more than 100 startups from across the country, while helping founders navigate the unique challenges of scaling a B2B SaaS start-up. As a result, Canada's Start-Up Accelerator is actively seeking innovative startups that would benefit from bespoke mentorship and support.
With recruitment in full swing, the L-SPARK team attended Collision Conference in Toronto for the second year in a row. Amidst the multitude of exhibiting startups, one dominant (yet unsurprising) theme emerged: AI. From high-profile speakers to panel discussions and demonstrations, Collision showcased the immense potential of AI across diverse fields, including healthcare, finance, and transportation, inspiring conversations on ethics, innovation, and the future of work, therefore solidifying its position as the biggest theme of the conference.
As a pre-cursor to Collision, L-SPARK hosted Startup Edge on the evening of Monday, June 26. Against the backdrop of breathtaking views, this event saw nearly 400 attendees set sail across Toronto bringing together startups, investors, and community partners for an evening of networking — marking the largest event that L-SPARK has successfully orchestrated.
Recently, L-SPARK was also thrilled to announce the companies selected to take part in the second cohort of the Hub350 Living Lab Accelerator in partnership with the Kanata North Business Association (KNBA), the gateway to Canada's largest Tech Park in Kanata North in Ottawa.
The companies that make up the cohort include:
Soralink
Soralink offers a complete solution for industrial machine condition monitoring, failure prediction, predictive maintenance, as well as productivity tracking. Their solution includes a sensor, an LTE gateway, a cloud-based AI prediction engine and a custom-built dashboard.
METI
Micro Engineering Tech Inc. pioneers cutting-edge autonomous vehicle navigation solutions, revolutionizing transportation with precise and efficient routing algorithms. Their innovative technology seamlessly combines AI and sensor fusion to navigate complex environments, ensuring safe, reliable, eco-friendly journeys for the future.
Zendelity
Zendelity improves operational efficiency for physical operating compliance. Their solution automates the communication of operating procedures, enhances visibility, and offers real-time compliance monitoring. This system of record helps identify areas for improvement and facilitates data-driven discussions with insurance providers, regulators, and brand standard setters.
B-Line
B-Line is an innovative smart building platform that uniquely serves the hospitality industry with digital access, room and desk booking, space optimization, and guest experiences. Their standout feature includes the provision of seamless, app-less digital key access, enabling guests to secure entry without the need to download an app, simplifying the guest experience and providing a competitive advantage for hospitality providers.
Aurrigo
Aurrigo's self-driving pods provide mobility within urban areas, shopping malls, airports, university campuses, science parks and other areas that are poorly served by traditional transport providers. Integrating seamlessly into the transport mix, Aurrigo's on-demand, autonomous passenger carrying pods work alongside traditional forms of transport such as taxis, buses, and light rail.
Upcoming, L-SPARK is looking forward to hosting its annual Selection Day in September, which will determine the exceptional companies that will join the 10th cohort. Excitement is building to unveil this year's cohort!
---