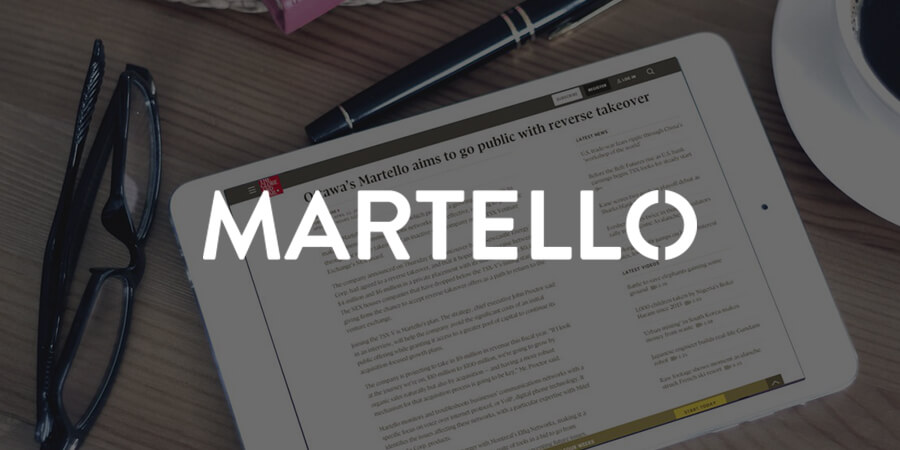 Martello Closes $7.5M Oversubscribed Private Placement, Begins Trading on TSX-V Exchange
October 25, 2018
Martello develops software to help service providers and enterprises manage the performance of real-time services on cloud networks. During the Quarter, the company continued making the kind of moves that are unique for a small-cap tech firm in Canada. On the heels of acquiring SD-WAN player Elfiq Networks Martello announced its intent to pursue a TSX Venture Exchange (TSX-V) listing. The strategy was accelerated with the addition of new CFO Erin Crowe, and the closure of an oversubscribed $7.5 million private placement. The company secured the TSX-V listing and began trading this month.
Spearheading the successful go-public strategy, Ms. Crowe is a finance leader with more than 20 years' experience. Prior to Martello, Erin held CFO and COO roles that included Executive VP and CFO of the Ottawa Senators Sports and Entertainment Group, the corporation behind the local Ottawa Senators NHL hockey team.
The oversubscribed private placement was a strong vote of confidence in the company by investors. Jesse Gamble, spokesperson for Donville Kent, commented that, "Martello has a solid leadership team, an established track record and a long runway for growth, all of which makes it an attractive investment opportunity for us. We are pleased to back the company as they continue to execute their growth strategy".
In terms of business development, the Martello customer base continued to grow as well, with more than 7,000 networks in more than 150 countries now using the software. And the company was also recognized this summer on the Branham 300 Canadian ICT Lead list, alongside such industry heavyweights as Mitel Networks and Shopify.
Look for more positive developments from Martello in the next issue of Q.
martellotech.com
---