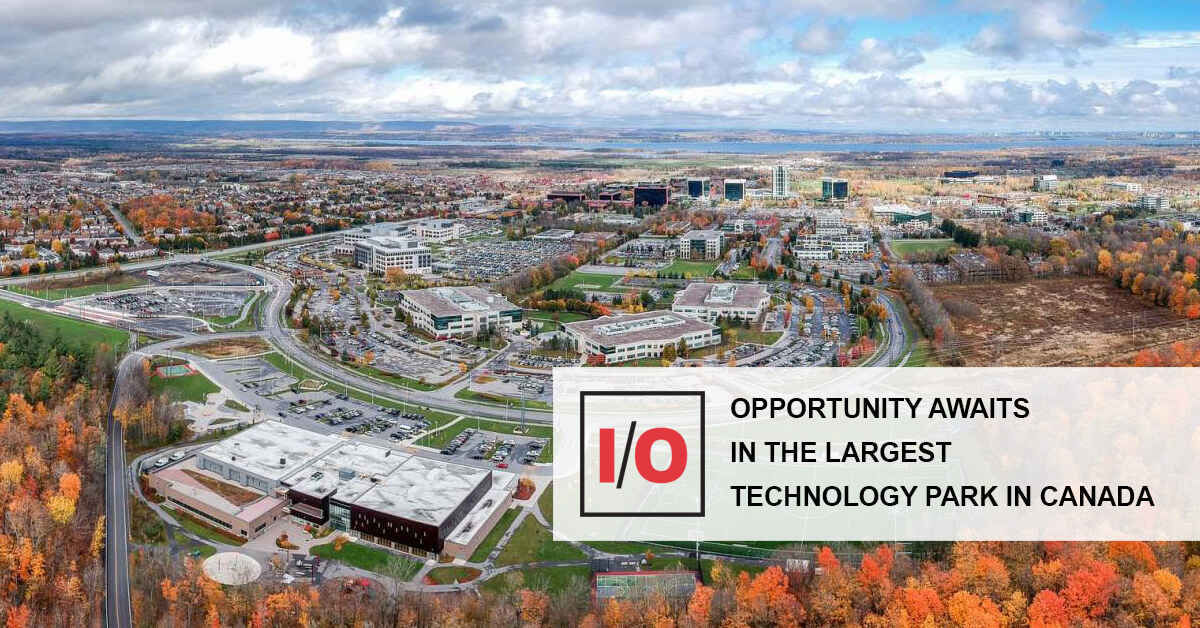 Opportunity Awaits in the Largest Technology Park in Canada
April 29, 2022
Kanata North in numbers: Annual GDP exceeds $13B, 33,000 people employed, 1,200+ open positions currently
Kanata North was not known for its high-tech strengths when I started Mitel together with Mike Cowpland in 1972. Since that time, however, the continued attraction of world-class talent, leading edge innovation and global business growth have combined to make the area the largest cluster of technology companies and activity in the country.
Today, the Kanata North Technology Park is home to more than 540 technology companies, ranging from start-ups to multinationals, and employing 33,000 people from the Ottawa community and beyond. And business is very good for these companies today. Most have come through the unwanted slow down of the last two years in strong shape. Innovation has continued, global markets have expanded, and corporate balance sheets have benefitted. For companies already here, and for new ones now choosing to locate their operations in Kanata North, a strong period of continued if not unprecedented growth is now underway, driven by technologies and industries such as AI, IoT, autonomous vehicles, 5G connectivity, digital healthcare, cybersecurity and more.
We all realize of course, such positive growth is not without its challenges. And a key one for companies in Kanata North today is the evermore aggressive competition to find, hire and retain the best and the brightest employees, across almost all disciplines. In fact, at last count, more than 1200 positions are ready to be filled right now – from entry levels to senior management.
To help address this important need, the Kanata North Business Association (KNBA) launched an online job board to provide job seekers with a single online destination to manage their search in the area. The KNBA recently returned to hosting an annual, in-person career fair as well. Last month, the latest Discover Technata Tech + Talent Expo attracted more than 2,500 job seekers. We spoke with Jamie Petten, KNBA President and Executive Director, after the event: "Discover Technata was, once again, a big success for our tech park! One company alone met with 1,000 candidates, conducted over 300 private interviews on site, and shared that they will be making 75+ hires from the pool of interviewees." That certainly sounds like time well spent.
Not surprisingly, many attendees at the career fair were students. Many of those arrived by bus from not only local academic institutions but also from Queen's University in Kingston – a two-and-a-half-hour ride away. The strength of this turn-out is thanks to another KNBA initiative from late last year. Hub350 is a business center for industry, academic and finance partners to meet, collaborate, innovate and nurture new recruits. Academic partners in Hub350 include uOttawa, Carleton University, Queen's University and Algonquin College, and these institutions now work with local companies to provide students with work opportunities while they learn. This is one of the best ways for students to get first-hand exposure to the network of companies, technologies and business leaders in the area, helping them determine specific career paths and employment opportunities before or soon after they graduate. And from the employer side, the companies are able to map recent and upcoming graduates into some of their open job opportunities in a more proactive way. A win for all involved.
There is another major factor that also helps the Kanata North tech park generate success stories like this, and that can be summarized as 'quality of life'. Kanata North offers employees a unique balance of impactful, rewarding work and affordable, desirable lifestyles. The local community features easily accessible greenspaces, golf courses, ski hills, nature trails, retail and entertainment services, family-oriented neighbourhoods and more. An environment such as this enables Kanata North companies to continue growing and producing globally significant products.
From autonomous vehicle technologies to smart healthcare solutions and much more, where talent goes, innovation follows. The big news is there are more than 1,200 jobs currently available in Kanata North. The bigger news is there is no sign of this growth slowing down anytime soon!
To learn more about KNBA and Discover Technata, visit jobs.discovertechnata.com/jobs.
Wesley Clover invests in a range of technology companies, and they bring impressive innovation to markets and clients around the globe. I/O is our way of sharing some of the best insights. I trust you will enjoy them.

Terry Matthews, Chairman
---