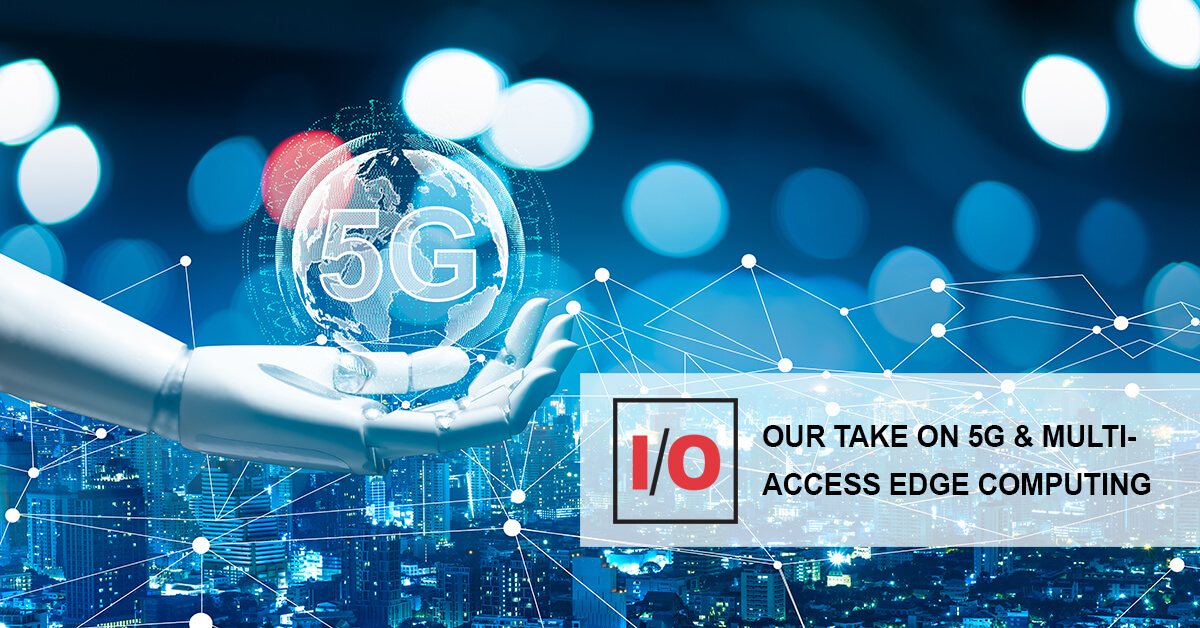 Our Take on 5G and Multi-Access Edge Computing
February 10, 2020
Why investors should be tracking 5G and MEC closely
As we are entering 2020, it is safe to say that the 2010s were a decade of great digital transformation, enabled by cloud computing, broad automation, artificial intelligence, Internet of Things (IoT), 4G, smartphones, mobile apps and social media. Companies such as Zoom, Uber, ByteDance and Square emerged and rapidly changed how we communicate, consume media, conduct business, order food, to name just a few examples of how this transformation has impacted consumers and businesses.
What lies ahead? International Data Corp forecasts that worldwide data will grow to 163 zettabytes (equivalent to a trillion gigabytes) by 2025. To provide a comparison, that is ten times the data generated just three years ago, in 2016. All this data should unlock unique user experiences and new business opportunities. 5G emerging technologies are driving this massive growth and are promising to be disruptive with exponentially faster download and upload speeds, improved throughput and decreased latency. Beyond faster broadband access for consumers and businesses, the largest transformational opportunities for businesses will also come from the emergence of multi-access edge computing (MEC). This new capability delivered to the edge will allow millions of connected devices to more quickly reach next gen 5G architected services rather than waiting for a remote server farm to do the job.
High-quality live data streams will make it possible for traffic control systems to automatically adjust stoplights and re-route traffic to aid emergency vehicles. Surgeons will be able to diagnose injuries via high-definition video before patients reach the emergency room. Intelligent cameras will be able to interpret video signals instead of just capturing them. High-band 5G, which operates in the spectrum between 20 gigahertz and 100 gigahertz, brings with it the ability to slice signals into multiple virtualized and independent logical networks that run on the same physical network infrastructure. Each slice can have different characteristics and can be reserved for specific uses, enabling organizations to run applications with zero latency and nearly unlimited bandwidth.

Source: Verizon.com
According to industry analyst Chetan Sharma, edge computing will be a $4 trillion market by 2030. However, 5G requires massive investments in wireless and core network upgrades, which leaves operators with few other options but to partner on edge and web services. As announced at the most recent AWS re:Invent, the Amazon cloud services division teamed up with Verizon to offer a 5G service that will push computing power closer to customers and enable, for example, new generations of video gaming and car automation for consumers. Businesses will benefit from high speeds and low latency resulting in advanced security and real-time control of connected devices. This will create copious opportunities for IoT innovations such as robotics and remote-controlled machinery.
How will 5G and MEC impact the Wesley Clover portfolio?
Tech companies in our portfolio such as ProntoForms, Solace and Solink are expecting to capitalize on these new services by creating their own 5G and MEC powered solutions such as 5G edge compute service offerings and 4K video access using 5G for real-time speeds and analysis.
For example, a delay of a couple hundred milliseconds as data travels from a distant server farm to a user can be acceptable for an email, but it could be problematic for manufacturing control systems or video streaming. Portfolio company Solink provides cloud video surveillance for business security and operational management camera systems. Currently, most of the processing of that data is done after hours, to avoid taking network services away from business applications. 5G will enable Solink to introduce new services such as real-time alerts and instant analysis to drive new customer value propositions without contending for precious bandwidth. Similarly, 5G will enable a host of new services to be developed on Solace's Event Mesh architecture where compute capacity can be moved closer to the customer. Industries such as manufacturing, transportation and finance are the most immediate beneficiaries of these capabilities.
Where does this leave us as investors?
CCS Insights predicts 1 billion 5G users by 2023. The total installed base of IoT connected devices is projected to amount to 75.44 billion worldwide by 2025, a fivefold increase in ten years. (Source: Statista). The sheer volume of devices going online from sources as diverse as manufacturing equipment and smart city applications – all needing to share that data with mobile devices including vehicles – means many new business opportunities are going to emerge.
So yes, we expect 5G and MEC to be very disruptive. Businesses will need to re-examine their processes to adapt and invest intelligently in next-generation technologies. And we will be helping manage our portfolio companies to be there with products and applications to support with that promising transition.
Learn more about our technology portfolio.
Wesley Clover invests in a range of technology companies, and they bring impressive innovation to markets and clients around the globe. I/O is our way of sharing some of the best insights. I trust you will enjoy them.

Terry Matthews, Chairman
---