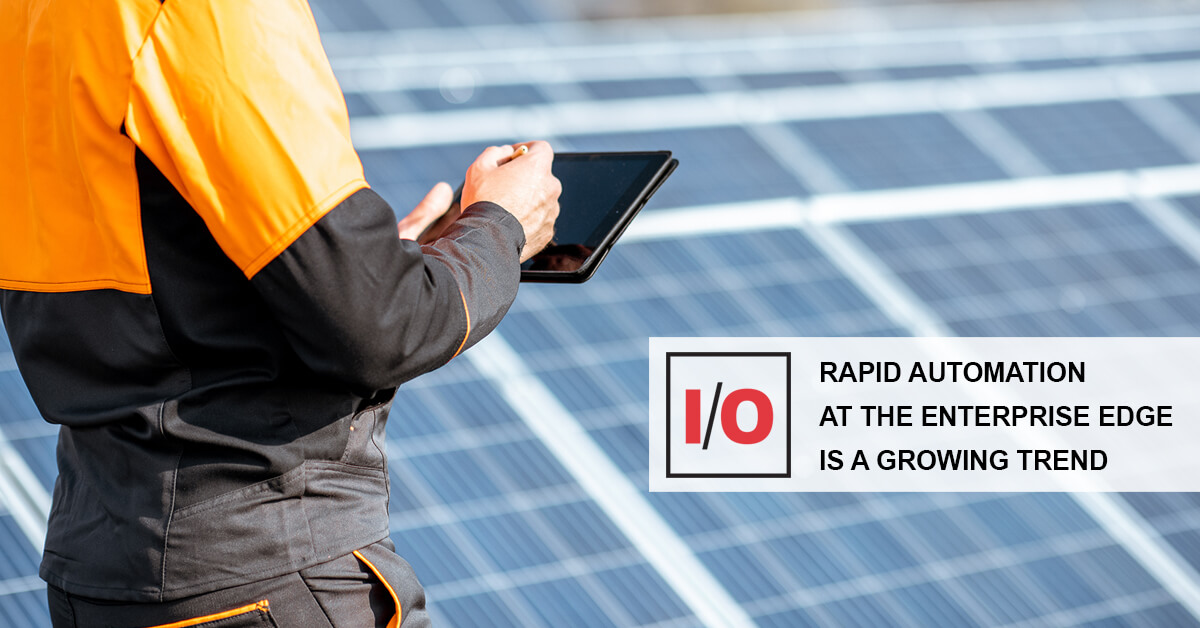 Rapid Automation at the Enterprise Edge is a Growing Trend
October 14, 2022
Macro-economic factors expected to accelerate automation of complex field work
The world continues to change, and ongoing technology, environmental and geopolitical realities are only accelerating this change. For example, governments today are under increasing pressure to diversify their energy sources to improve both security and sustainability of supply. They need to balance the demands of population and economic growth against the undeniable effects of climate change and the needs to invest billions of dollars into new infrastructure and carbon reduction initiatives.
Major shifts are occurring in many industries. In healthcare, we are witnessing the evolution of medical devices to meet the growing demands of an aging population. Advances in manufacturing equipment and processes are driving increased productivity and delivery, with many tools now IoT-connected across high-speed networks to ensure they operate at peak performance levels.
The processes for ensuring these ever-more-sophisticated, critical corporate assets maintain those increased levels of production and efficiency and protect the stronger revenues and customer satisfaction levels that result, are evolving in parallel. More complex equipment results in more complex work processes. Safety, environmental and other forms of compliance are evolving. Customers themselves are becoming more sophisticated. All this is driving the need for greater automation on the service and support sides of an operation, enabling the collection and sharing of richer data such as high-resolution photos, audio/video files, annotated schematics and more, sometime in real time, for use in routine maintenance activities, safety audits, performance analyses or customer reports.
How can enterprises overcome technology or other limitations to meet these demands?
The thought of automating complex work processes can suggest costly developer customization and deployments that take months or years to complete. Portfolio company ProntoForms has a much better idea. The ProntoForms platform enables organizations to develop custom mobile applications and forms/reports tailored to the specific needs of their field service teams rapidly, and deploy those new, automated processes just as fast. The result is quantifiable ROI in the form of faster, safer, more accurate, more reliable reporting on and maintenance of even complex field assets.
Serving more than 150 enterprise, and another 1,500 midsize customers, ProntoForms enables the generation of more than 30 million mobile forms each year – about one every second. 80% of new deployments are up and running in less than eight weeks. Lenny Cumberledge, Field Service Director for GOJO (Purell) validates this benefit: "Before ProntoForms, it took three months to get a technician up and running. We've narrowed it down to weeks with ProntoForms."
Johnson Controls experienced similar productivity improvement, as Jim McKiel, Senior Operation Program Manager, reports: "The very first apps we deployed took 5-10 minutes to develop. We probably spent more time whiteboarding the app than it took to build and actually deploy it out to the field."
Buddy Saucier, Vice President, HVAC Service, at Johnson Controls, adds: "In the past, if I had to deploy an app without that flexible technology, it would take months and a minimum of $300,000."
In a recent report produced by Nucleus Research, ProntoForms utility customer, PrimeLine Utility Services Inc. identified a 1,200%+ annual return on investment from their deployment.
ProntoForms Fortune 500 customers are advocates of a much better way to address central business challenges with rapid and impactful solutions that drive quantifiable ROI. Leading asset, compliance and field service platforms have recognized the short fall of their mobile capabilities to meet the demands of complex field work and have partnered with ProntoForms to bolster capabilities to meet customer demands.
To learn more about ProntoForms no-code solutions for field service teams, visit prontoforms.com.
Wesley Clover invests in a range of technology companies, and they bring impressive innovation to markets and clients around the globe. I/O is our way of sharing some of the best insights. I trust you will enjoy them.

Terry Matthews, Chairman
---