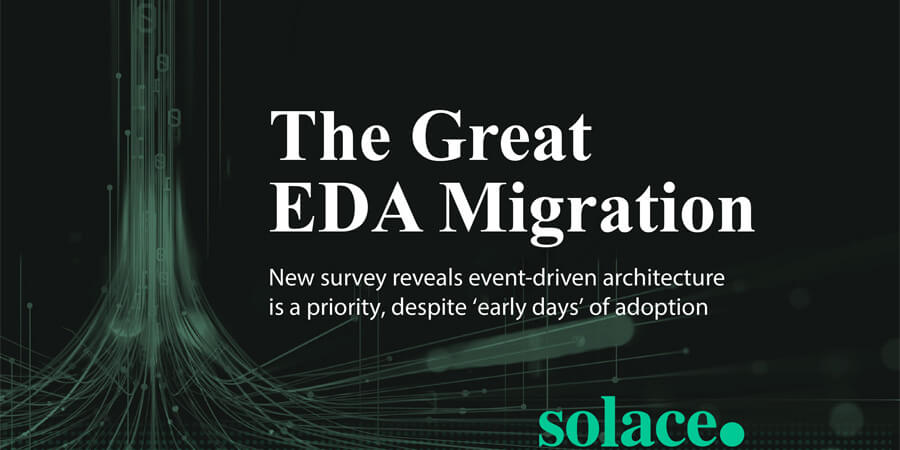 Solace Makes Event-Driven IT Architecture More Accessible
April 8, 2022
Event-driven architecture (EDA) is a way of building enterprise IT infrastructure such that information (data) is able to flow between applications, cloud services and IoT devices in real-time — as events (e.g., transactions, updates, requests, etc.) occur, as opposed to periodic polling for synchronization.
Portfolio company Solace has been leading the EDA technology industry for several years. In 2019 the company launched an initiative called Event Horizon to make EDA more accessible to enterprises that historically had not relied on real-time data, but were finding they needed to as part of a digital transformation effort to improve agility, efficiency, customer experience or other competitive advantages. Modern realities such as hybrid cloud computing and storage, IoT (Internet of Things), AI/machine learning and mobile application access demand the efficient real-time distribution of data across devices and environments that only EDA makes possible.
During the past Quarter, the company retained independent research firm Coleman Parkes to lead a global survey on Event Driven Architecture. The industry-first survey was designed to provide an accurate update on how organizations are now incorporating real-time data and EDA into their enterprise landscape. Starting with their overall familiarity with EDA and its advantages, and the progress they have made toward implementation. It was encouraging to learn that 72% of respondents are currently implementing EDA across their organization. The full results of the survey, including the challenges these enterprises are facing and how they're overcoming them, can be viewed here.
Solace is also fostering a growing community of EDA thought-leadership by sponsoring the EDA Summit, a virtual event (currently) that brings together analysts, solution providers, business leaders, architects and technologists who want to learn about event-driven architectures and how they are best implemented.
The company has also expanded the state of EDA enabling technology by pioneering an architectural approach called Event Mesh. Combined with Event Portal software, this lets architects and developers collaborate to develop and reuse event-driven APIs and event streams across their organization.
Solace continues to create innovative new capabilities and initiatives such as these, along with increasingly sophisticated APIs and connectors to cloud services, iPaaS offerings and programming languages. They also make their products available to the market through leading cloud provider marketplaces like AWS and Azure.
Doing the right things to make EDA ever more accessible, as market leaders do … solace.com
---