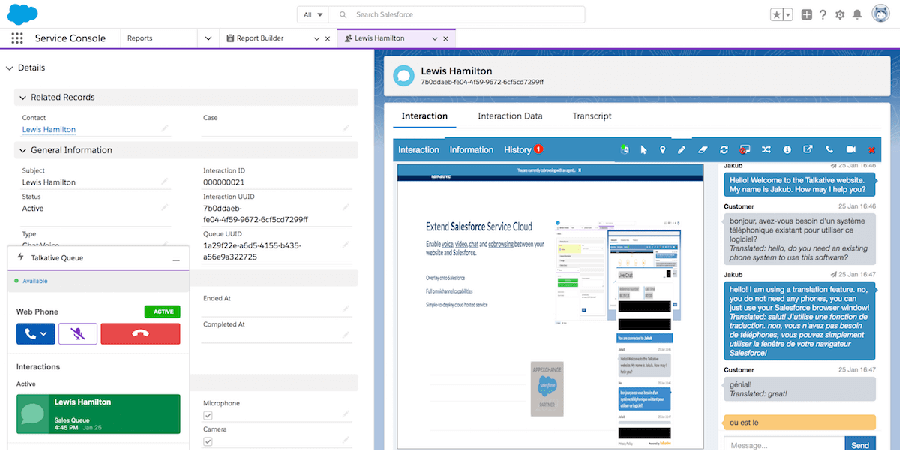 Talkative Integration With Salesforce Driving New Opportunities
April 15, 2020
A graduate of the Alacrity program in Newport, UK, Talkative provides communications software for web chat, web calling, co-browsing, email and video calling services in contact centers of all types. The company this Quarter was pleased to announce the successful completion of work to join the Salesforce ecosystem as an official ISV Partner. Talkative software now integrates smoothly into Salesforce Service Cloud, and has been made available on the Salesforce AppExchange to more than 160,000 potential customers.
This project was another step by the company as it responds to increasing demand for website-centric contact center systems. It is no surprise to anyone that evermore customer/supplier engagement is beginning online, and to make that engagement as pleasing and effective as possible, communication should be contextual for both parties — shared views of web pages, product details, payment and shipping steps, etc.. The new Talkative/Salesforce integration is designed to close the gaps in real time between customers browsing websites and agents supporting them in contact centers.
Talkative co-founder and managing director, Felix Winstone, explains: "Digital marketing teams today are embracing online chat systems for engagement with customers through websites or applications, but they are using separate systems for handling voice interaction. This disconnect creates fragmented customer journeys, inefficient contact center operations and negative sales or support results. Talkative helps clients remove these risks by embedding options into their online services that allow customers to choose for themselves whether they want voice, text chat or email engagement."
The Salesforce integration embeds all communications into a holistic Salesforce view, with access to customer purchase preferences, service history, contact details and more. Interactions can be switched easily from a simple chat to a live voice call at the click of a button, enabling agents to provide smoother, more complete assistance as needed.
These capabilities are being leveraged by a growing number of Talkative clients, and feedback suggests end-customer satisfaction ratings of 90% and higher. Web-chat abandon rates have been reduced by 70% by some clients, and overall contact centre efficiency (speed and quality of service delivery) has been boosted noticeably. A number of high-profile accounts are currently testing the new software as well. We expect to share more of those details in an upcoming issue of Q. gettalkative.com
---