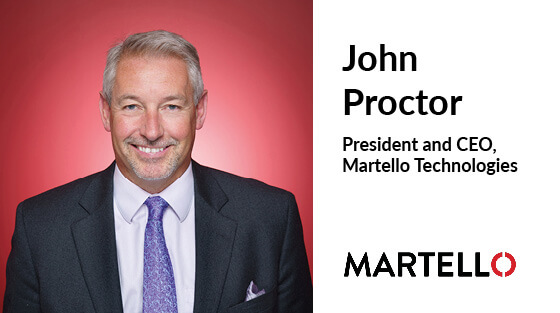 The Secret to Accelerating Time to Value for Digital Workplace Initiatives is Monitoring
August 3, 2023
Today's workplace looks quite different than it did just three years ago. Knowledge workers who once worked a traditional 9-5 week from the office pre-pandemic now split their time between their home offices, the traditional office and places in between. According to Gartner, by the end of 2023 48% of knowledge workers globally will work either fully remote or hybrid, with the remaining 52% working in the office. Enabling this shift are cloud-based communication tools like Microsoft Office 365 and Teams that keep people connected and productive no matter where they are located. The ability to connect from anywhere has become an expectation for most knowledge workers.
Today's CIO is spearheading digital initiatives that will drive business success in this rapidly changing workplace. According to Gartner's CIO Agenda 2023, CIOs are prioritizing digital initiatives that improve the customer experience, drive operational excellence, grow revenues and increase employee productivity. However, Gartner also notes that more than half of the digital initiatives spearheaded by CIOs are falling short of CEO expectations, with 59% perceived as taking too long to complete and 52% taking too long to realize value for the organization. Accelerating time to value with digital workplace initiatives is critical for CIOs, and many are placing renewed focus on monitoring: to measure adoption, understand usage and quickly detect any performance or user experience challenges that may hinder success. In this article, we look at two examples.
Digital Initiative: Microsoft Teams Rooms
Microsoft Teams is among the most significant digital initiatives that CIOs have championed within their organizations since the start of the pandemic, with monthly active users of Microsoft Teams growing from 44 million in March 2020 to 300 million in January 2023. Many organizations rapidly adopted Microsoft Teams to keep employees productive and connected amid pandemic-related work from home directives. Teams has helped many CIOs address their key objectives, including improving the customer experience, growing revenues and increasing employee productivity.
Today, Microsoft Teams has become the hub of workplace productivity for millions of businesses around the world, keeping knowledge workers connected via chat, calls and meetings. Microsoft has kept its finger on the pulse of global workplace trends and is driving innovation in Teams to meet the needs of organizations in every workplace model.
One of the key innovations that has seen explosive growth recently is Microsoft Teams Rooms (MTRs). Over 60% of the Fortune 500 have already chosen Microsoft Teams Rooms – they play a critical role in making hybrid meetings more productive and equitable for attendees, whether they are connecting from home or the office. MTRs represent an investment not only in technology but real estate and are often used by VIPs in mission-critical meetings. Having made a significant investment in deploying MTRs in their organizations, many CIOs need to demonstrate how this digital initiative is driving value for the business.
Monitoring MTRs provides key insights of value to CIOs: are MTRs being used? Are particular rooms underused, overused or not used at all? Are there performance and meeting experience issues underlying these usage trends? Martello's Vantage DX is the only comprehensive, out-of-the-box performance monitoring solution for Microsoft Teams. It provides a dashboard that demonstrates to CIOs how MTRs are being used and whether the meeting experience is positive for users, whether in-person or remote. The outcome: CIOs can confidently report on return on the MTR investment with data on usage and meeting quality – and if issues are detected, IT teams can better prioritize their time to resolve the most critical user experience problems. With monitoring, IT teams responsible for managing the MTR investment will know if an MTR is performing poorly before users complain, will know the health status of the thousands of devices involved in delivering the MTR experience, and can closely monitor their busiest MTRs for performance issues at peak usage times.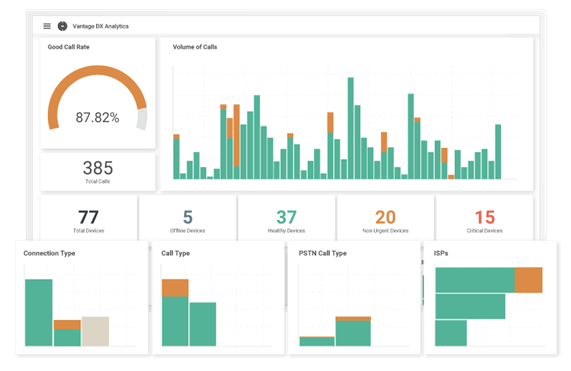 Vantage DX customer Unum is an American Fortune 500 insurance company. A distributed global organization with a hybrid workforce of 14,000 employees, Unum has chosen Vantage DX to stay ahead of issues in the network infrastructure that will negatively impact their employees' Microsoft Teams experience, including their 190 Microsoft Teams Rooms: "Vantage DX has made it significantly easier for us to monitor all of our Teams Rooms", said Joshua Snipes, Collaborative Technologies Engineer at Unum. "The ability to correlate issues and root causes from a single platform showing us device and peripheral health, Room call quality, Teams service health from Microsoft, and license status all in one location is huge. The icing on the cake is that Vantage DX can generate alerting – no more blowing up your inbox with alerts coming from multiple different sources."
Digital Initiative: Mitel Softphone
Martello is partnered with global unified communications leader Mitel Networks, providing its customers and partners with the Mitel Performance Analytics (MPA) software, a fault and performance management platform. Like Microsoft Teams, demand for softphones has escalated as a result of the post-pandemic hybrid work trend.  Mitel's softphone is a software application that runs on a computer or mobile device and functions as a phone, but without the use of a desktop phone handset. The advantages of softphones include cost savings as well as the mobility and flexibility that hybrid workers require, with all of the features of a traditional phone system such as transferring calls and the integration of mobile capabilities like SMS messaging.
For CIOs, demonstrating value for their investment in softphones is highly dependent on the healthy functioning of the underlying network. To harness the benefits of softphones, CIOs and the managed partners supporting them need better end-to-end visibility of all of the factors that can impact softphone voice quality. Martello provides CIOs and their service providers with the clearest picture of how hybrid work habits such as softphone usage are impacting their office networks.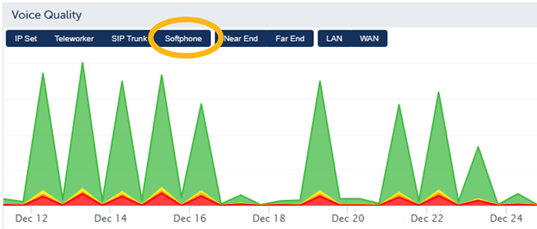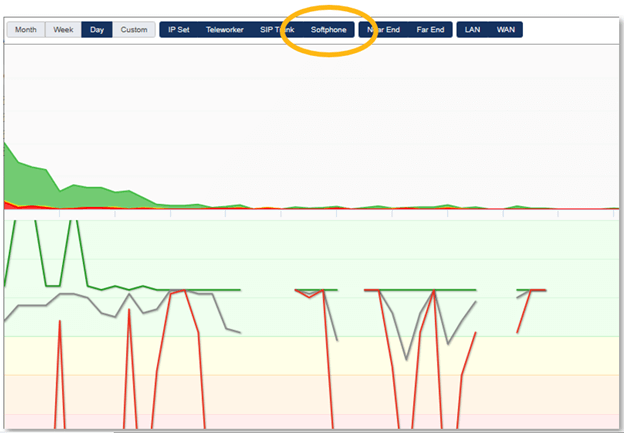 MPA proactively monitors and manages a customer's entire unified communications network, providing analytics and reporting that can simplify troubleshooting of problems and identify VQ and network quality concerns before business affecting outages arise. MPA can quickly point towards the root cause of a problem with VQ cause visualisation, including correlation graphs. MPA also helps with capacity planning, providing trunk traffic and MiCollab AWV utilization reports as well as usage reports for audio, web and video.
Assessing the Monitoring Stack
As pressure mounts to demonstrate the business value of costly digital initiatives, CIOs can offload this challenge with the right monitoring and reporting stack in place. Look at the monitoring tools already available in the organization, including native tools such as the Call Quality Dashboard (CQD) for Microsoft Teams. Establish the performance and user experience KPIs that will demonstrate the business value of each digital initiative, find the tool that will deliver the needed data and develop the dashboards and reports that will give CIOs a trendline for the success of digital initiatives. With the right monitoring tools, CIOs can report on adoption, usage, performance and user experience. This reporting will position them to achieve the buy-in necessary to pursue the next digital initiatives in their strategy to drive value for the business.
Martello (TSXV: MTLO) provides digital experience monitoring solutions that optimize the modern workplace. The company's products provide actionable insight on the performance and user experience of cloud business applications, while giving IT teams and service providers control and visibility of their entire IT infrastructure. Martello's software products include the Microsoft-recommended Vantage DX, which provides Microsoft 365 and Microsoft Teams end user experience monitoring and optimization. Martello is headquartered in Ottawa, Canada with employees in Europe, North America and the Asia Pacific region. Learn more at http://www.martellotech.com.
---