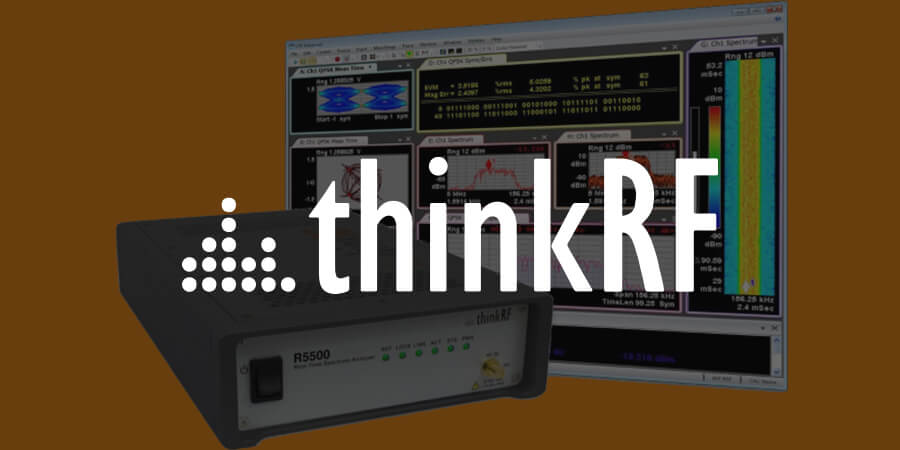 ThinkRF Releases Spectrum Analyzer with GPS Integration
April 26, 2019
Ottawa-based ThinkRF is the leader in software- defined spectrum analysis for detecting, analyzing and monitoring complex radio signals in the rapidly evolving wireless landscape. Built on patented technologies, ThinkRF has a large ecosystem to provide RF (radio frequency) Application Developers, RF Engineers and Monitoring Program Managers with unmatched, cost-effective insight for their wireless research, development and deployment activities.
This Quarter, the company launched the ThinkRF R5700, a real-time spectrum analyzer with integrated Global Navigation Satellite System (GNSS — also known as GPS) functionality. This new platform enables users to conduct advanced spectrum analysis in the burgeoning new market that includes moving vehicle (autonomous or not) and other mobile applications.
The built-in GPS capabilities add ongoing time and location data to the range of measurements taken and give users a full view of the dynamic spectrum environment, offering advanced geolocation techniques such as Time Difference of Arrival (TDOA), Power Difference of Arrival (PDOA) and Angle of Arrival (AOA) to pinpoint the location of signals of interest in a range of new scenarios.
"The ThinkRF R5700 is the only analyzer that combines the performance needed to cover the 27 GHz frequency range with the portability and form-factor to be used easily in a vehicle or in the field," explained Dr. Jasvinder Obhi, VP Product Management and Marketing at ThinkRF. "This is a significant step forward for customers focused on mobile situational awareness and other advanced analysis applications."
ThinkRF also released the ThinkRF P120 Vehicular Power Conditioner, to provide regulated power to portable spectrum analysis gear and protect against vehicular power transients. These new products will help keep the company in a leadership position as the market opportunities continue to evolve. thinkrf.com
---