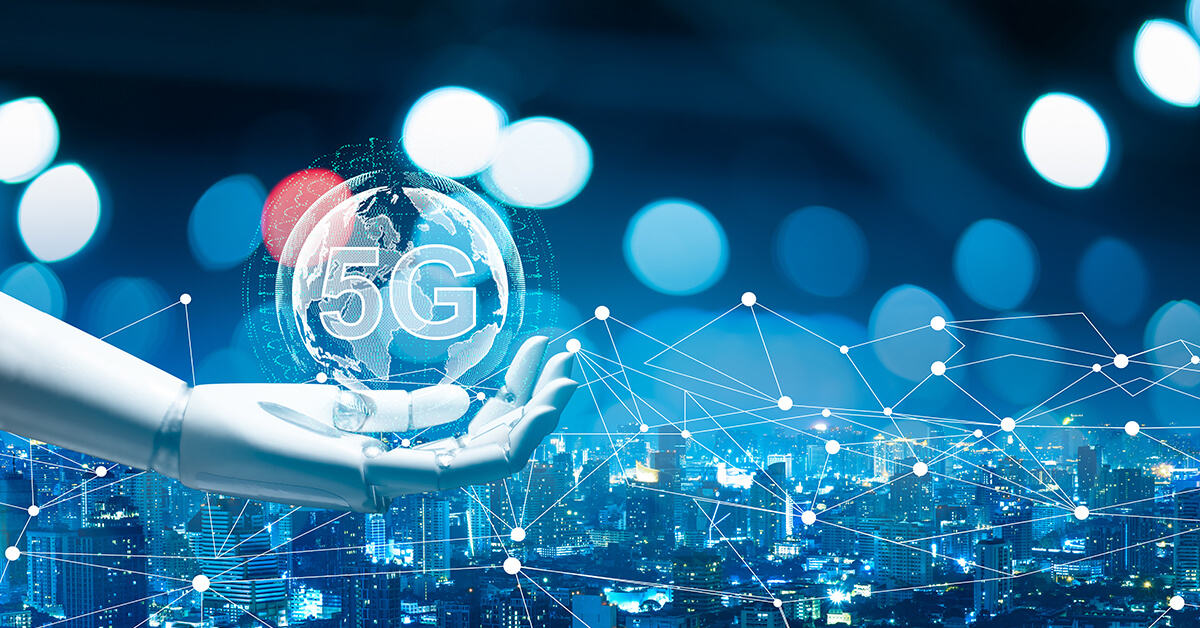 Why 5G Drones?
August 2, 2022
How 5G moves the needle in drone use cases
By Amy Karam
TELUS 5G thought leader
There is much anticipation and excitement around the new and enhanced capabilities that 5G will bring to wireless communication and an associated wide range of new services and solutions. 5G is not just another G or 'generation' of mobile technology but it will leapfrog previous versions into a new dimension of possibilities. The unique technical functionality that 5G promises is indeed impressive: exceptionally faster speeds (up to 10X faster than 4G/ LTE) with expansive bandwidth and capacity; ultra-low latency with goals of less than 10ms of latency/delay and the promise of 99.999% ultra reliability; massive IoT capacity that will support more than 1 million IoT devices in 1 square KM.
Combining these 5G capabilities with other enabling technologies such as multi-access edge computing (MEC), artificial intelligence (AI), video analytics and others will result in an endless number of possible use cases across many verticals.
5G is about enabling the art of the possible.  It is about applying iterations of these technical capabilities toward solving real-world problems across different industries and deriving outcomes that have positive impact. Problems such as addressing labour shortages in agriculture or mining; extending the reach of healthcare services directly to patients; enabling manufacturing operations to be competitive and optimized; enabling first responders to save more lives and enhance public safety; helping companies meet sustainability goals or reduce security breaches – and the list goes on.
It's important for 5G adopters to first consider 'the why' of 5G, which will make the 'what' to deploy and 'how', an easier decision.  In this article, we will look at how drones can and already are being used across different industries, whether it's for deliveries, surveillance, safety, or security, and how 5G enhances these applications or use cases.
To start, 5G enables autonomous drone flight and the use of video streaming and AI analytics to make real-time decisions. The faster speeds and bandwidth capacity of 5G allows the collection and processing of operational data to be offloaded from the drone itself and instead transferred over a very fast 5G network to edge computing servers (MEC) that return instructions on all actions that need to be taken by the drone in real-time.
This helps to enable use cases that apply the Beyond Line of Sight (BVLOS) flight capability by not only offloading the processing of data to reduce drone payloads and increasing computing capabilities, but it will allow the expansion of drone-use in new spaces. The ability to fly drones Beyond the Visual Line of Sight represents the next big opportunity for commercial drone operators as it allows more efficient and cost-effective operations, far greater distances to be covered and facilitates drones to fly without human interference.
Let's take a closer look at some drone use cases where 5G will make a difference.
Perimeter Security
Organizations can leverage existing fixed cameras and infrastructure together with drones to enable more comprehensive security solutions. They can leverage AI, object detection and video surveillance to better deter, detect and respond to vandalism, theft or other incidents. Autonomous drone flight and detection capabilities can initiate automated workflows in existing security systems and procedures.  Existing alarm or other systems can be used to trigger automated drone activity that enhance incident responsiveness.
Human or Object Detection
The enablement of AI and computer vision capabilities at the edge introduces new use cases around object detection. This is important in situations where people or objects should be kept outside, and sometimes inside, a specified perimeter. The use of AI and ML (machine learning) will enable more immediate detection of specific targets or situations. They will significantly improve the speed to identification and help users focus on assessing and making quick decisions using the data. Along with a drone orchestration platform (TELUS now has a partnership for such a solution with Unmanned Life, AI capabilities are enabled to identify humans or other specified objects. Additionally, this can be leveraged with autonomous flight capabilities to drive efficiencies and speed.
Inspection and Maintenance
Inspection and maintenance of critical infrastructure is necessary to ensure safe and continued operations. Current methods can be costly, can suffer from labour challenges, and can put workers at risk in industries such as mining and others. Drones equipped with 5G connectivity offer an alternative.  They can be used to inspect pipelines, railroads, highways, dams, powerplants or other important infrastructure, quickly and cost effectively.
Drones equipped with LIDAR can create digital twins of roads, bridges, dams, towers, mines, and any other physical asset, in a fraction of the time required by conventional tools. These 3D/4D images can then be exported, visualized, maintained, updated, and managed in a variety of industrial tools that help ensure the assets themselves are utilized, managed, and maintained in the best ways.
Drones have also proven especially helpful in the agricultural sector, where they are being used to scan crops for damage or dead zones that can suggest disease or identify which planting/irrigating/fertilizing techniques are performing best.
Last Mile Delivery
Rapid, on demand delivery of critical equipment, medical items or other parts is often imperative to continued operations and support to team members. 5G-enabled drone capabilities help ensure these supplies are dispatched quickly and efficiently in last-mile delivery applications. For example, some in the automotive industry are now using drones to deliver essential parts needed in the manufacturing process more responsively and effectively. In a more extreme example, hospitals are now experimenting with autonomous drones to deliver lungs or other organs for transplant – definitely a circumstance where a fast, ultra-reliable network is a necessity.
Search and Rescue
There are other time-sensitive situations where leveraging autonomous drones equipped with AI and other technologies can also help save lives. Drones with thermal or night vision can provide solutions in many environments. An autonomous drone platform can fully automate flight in a prescribed area, for a single or for multiple drones.  The fastest or most comprehensive flight path(s) can be defined, and a swarm of drones used to scan large areas more quickly and effectively. With AI capabilities being used to detect missing humans, safety teams can respond more quickly and directly.
I recently had an experience hiking in a national park, where the deployment of autonomous drones certainly could have been helpful. After a devastating storm two weeks prior, some of the trails were still washed out and fallen trees created obstacles everywhere. Taking detours, we found ourselves lost with no apparent exit. The emergency resources could not help us navigate to safety because they were unaware of the washed-out trails that no longer offered a viable route. Autonomous drones could have taken inventory of the trail situation, proactively or in real-time, and the data could have been used remotely by the limited number of park rangers to help guide hikers to safety, or better still, it could have allowed them to caution hikers about closed trails before entry. We were lucky and did get out without incident.  But others were not as fortunate, as we did see an ambulance and rescue crews on our way out and heard helicopters flying overhead.
Recreation and hospitality
Wesley Clover is helping pioneer 5G drone applications through a partnership with a drone startup they have incubated, Kirality Drones. The Kirality team is applying drone capabilities to the process of delivering beverages and food from the clubhouse restaurant to golfers on the local Kanata Marshes Golf Course. The drones will be managed initially through operator oversight, but the vision is to have multiple 5G-connected drones leverage AI, GPS, video cameras and more to shuttle orders placed through the golfers' smartphones, to prespecified locations within the 18-hole layout.  A simple mobile app for ordering and payment, intelligent flight and hovering management through reliable, high-bandwidth connectivity, and automated winch mechanics for lowering/raising the refreshment coolers are all combining to create an innovative new means of keeping golfers fed and hydrated on the course.
Conclusion
The potential impact of 5G wireless networking married with a range of advanced new technologies and capabilities is tremendous. The next steps are for 5G adopters to apply their own forward-thinking and leverage these capabilities in their own product roadmaps. The future of communications connectivity and IoT is around the corner – the time is now for plans to exploit it.
---