Demystifying Blockchain
Blockchain technology and its possibilities have captured the imagination of professionals across industries. Often mentioned as a technology that may one day transform economic and social foundations, it is one of the most discussed and debated technologies today.
Kaushik Venkatadri (KV) is Senior Director, Blockchain Centre of Excellence, Innovation and Technology at RBC in Toronto. He will be the guest speaker at our next ExecTuesday, and will provide guests with a deeper understanding of the technology, why it is considered revolutionary and impactful by practitioners, where it is likely to be applied, and how it may evolve. He will cite real use-cases and application examples to underscore his points.
KV has a Masters in Computer and Information Technology from the University of Pennsylvania. He has worked in the IT industry since 1998, spending a number of years working with Wall Street banks in New York before moving to Toronto. His current role combines his two passions of financial technology and distributed systems. We hope you can join us to hear his talk.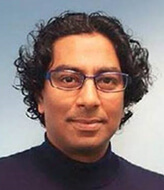 Kaushik Venkatadri
Senior Director, Blockchain Centre of Excellence, RBC