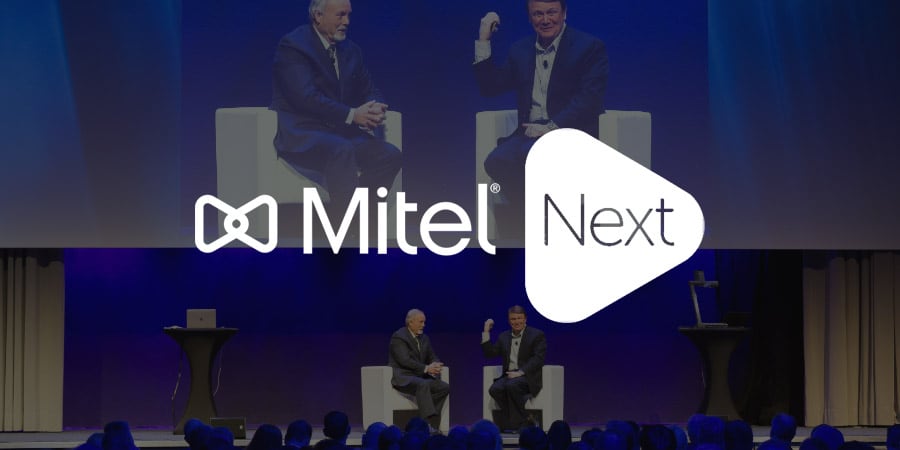 Mitel Lays Out the Future of Collaboration at Mitel Next in Munich, Germany
April 1, 2018
Jeremy Butt, S.V.P. Mitel International, welcomed a full house of more than 400 partners, customers, consultants, media and analysts to the sixth annual Mitel Next event recently. The event was held in Munich — the second time it has taken place in Germany — and was hosted by company CEO Rich McBee.
The theme this year was the Future of Collaboration, and featured guests that included customer the Tottenham Hotspur Football Club (which competes in the English Premier League), leading customer experience expert Frog Design, and a special appearance from Mitel Chairman and co-founder Sir Terry Matthews.
"It has been quite a journey," said Terry in his opening remarks. He then took the appreciative audience through the 45-year story of innovation from the company, beginning with the humble (if not slightly legendary now) start as a Canadian importer of silent electric lawnmowers!
The audience also got a peek at innovation under way in the Mitel labs today. It is clear the customer experience in global business communications is undergoing a revolution. As cloud technology becomes more readily available, consumers increasingly expect a modern, mobile-centric experience. Cloud technology is enabling businesses to be more purposeful and flexible in how they meet these needs — ultimately allowing consumers to interact with their contacts in the most natural method they choose.
World-leading solutions from Mitel provide the avenue for businesses to achieve this next-generation customer experience using on-site, cloud or hybrid platforms. Mitel Next attendees learned how they can provide omni-channel customer experiences that will help
businesses gain, nurture and keep customers from start to finish.
When all was said and done, "Mitel Next Munich was a huge success," said Jeremy Butt, speaking after the event. "Many of our partners believe, now more strongly than ever, that they have to be on the Mitel train." Video replay of the event is available for viewing from the Mitel website: Mitel Next 2018.
---