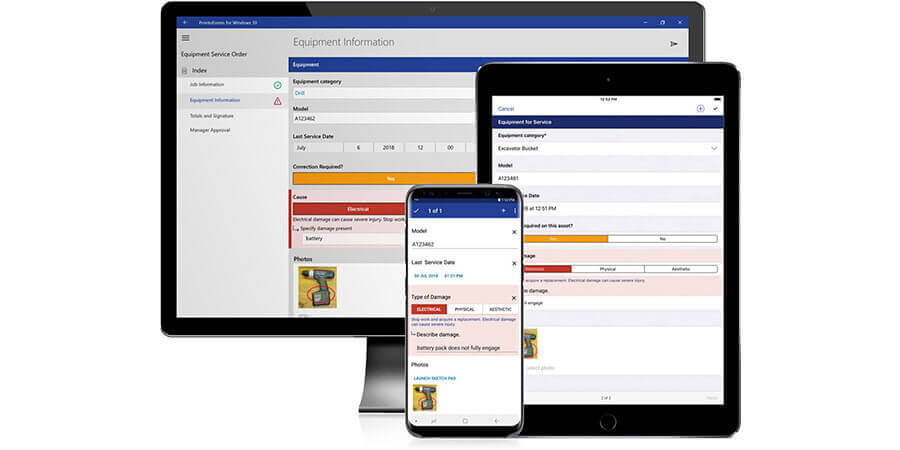 Setting a New Standard in Field Service Automation
April 5, 2021
As the world strides toward some form of "new normal", portfolio company ProntoForms continues to help customers build easy, digital applications that empower their technicians in the field and create a seamless bidirectional exchange of critical data between the office and field resources. As digital transformation continues to climb the list of priorities for organizations of all sizes, this example of extended automation is resonating louder than ever. The last Quarters have seen the company increase key metrics including leads being generated, new accounts being secured and existing accounts being expanded.
Winning Large New Accounts
New growth has been achieved in business sectors including medical device manufacturing, industrial manufacturing, oil and gas operations and public utilities. Companies operating in each of these sectors are embracing additional and new digital innovation as a response to the current social and economic realities. A strong example emerged late in the last Quarter when a global medical device manufacturing company deployed new ProntoForms applications to more than 850 frontline workers to improve operational processes and quality control. Key for the client was the ability to provide these mobile workers with efficient digital checklists that would conform to stringent FDA validation and QA requirements with every submission.
Also during the Quarter, a global consulting firm made the call to expand its use of ProntoForms digital forms software across an additional 22,000 frontline workers. The firm operates across several large industries, and this particular expansion was to provide a more effective means of rich data collection during the more than 500,000 energy audit inspections the company conducts annually.
A global medical radiation device manufacturer is another client who recently deployed ProntoForms software, in this case to 400 field engineers who ensure maximum device uptime for existing customers and assist in the sales processes for new opportunities.
Growing the Solution
As the lists of ProntoForms customers and client needs grow, so does the software platform. This Quarter saw the release of a new feature called ProntoForms Teamwork, which improves the ability for field service resources to collaborate. It allows work-in-progress forms to be submitted into management systems but still be available to other mobile users before the specific tasks are completed. Different users can then continue executing the service or other routine in fully traceable ways, which is important for organizations which manage large maintenance activities that cross over individual technician shifts or require technicians with different skills to complete.
Evolving Marketing in Parallel
Several new marketing tactics were also embraced during the Quarter. The company listing maintained in the Salesforce AppExchange was overhauled to ensure, as with all sales support tools, that the value the ProntoForms platform brings to the Salesforce partner ecosystem was articulated clearly and accurately, and included all the latest product features and benefits.
An initiative developed in 2020 and carried forward into 2021 is an online event partnership between ProntoForms and the Service Council, an exclusive community of Services Executives representing global, industry leading, service-centric businesses. Called IdeaShare, this series of digital events is designed to bring together senior field service-innovation thinkers from leading organizations to discuss cross-community challenges, opportunities and more. For example, the most recent IdeaShare featured representatives from Schneider Electric, Medtronic and the NIU College of Business discussing plans and investment priorities related to new technologies in 2021.
All these initiatives are designed to ensure ProntoForms continues on its growth trajectory. More information can be found at prontoforms.com.
---