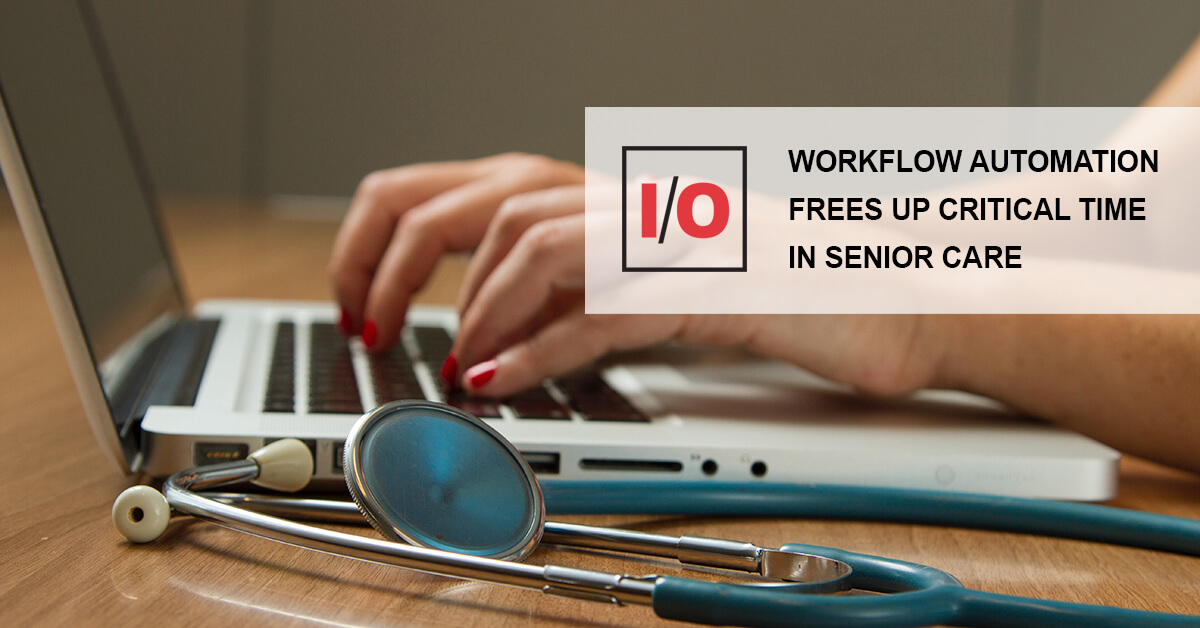 Workflow Automation Frees Up Critical Time in Senior Care
June 10, 2020
Automated care messaging helps ensure compliance, drives increased productivity and reduces family anxiety during unprecedented times
Keeping resident families up to date with accurate information about their loved ones is important. In an emergency, it is critical. The novel coronavirus pandemic has amplified this need with some organizations such as CMS (Centers for Medicare and Medicaid Services) in the US going as far as mandating that all skilled nursing facilities must notify family members by 5 pm the next day in the event of a positive or suspected case of COVID-19. Senior care homes worldwide have shown to be highly vulnerable to COVID-19, putting increased pressure on care homes for consistent and timely resident family engagement. Traditional phone calls are time-consuming and keep staff from providing direct care to residents. Automated care messaging can help, and that is what portfolio company Cliniconex focuses on.
Based in Ottawa, Canada, Cliniconex is a leading healthcare software provider dedicated to changing the face of patient and resident family engagement in healthcare. Freeing up care delivery staff and allowing them to focus on direct care instead of administrative tasks is the driving force behind the Cliniconex solution for senior care facilities. Through tight Electronic Health Record (EHR) integration, the solution delivers critical information such as safety and outbreak notifications, care plan reminders, policy changes and appointment notices to resident families, improving overall engagement and communication.
Fast growth through strong partnerships
These tough times have served to amplify the value of the Cliniconex solution. In the last six weeks alone, the company has deployed the software in more than 1,000 US-based senior care facilities. This growth can be attributed to an undeniable increase in demand due to the novel coronavirus outbreak, but also to the strong partnership Cliniconex has established with PointClickCare, the leading cloud-based software vendor for the senior care market. Over the past five months, Cliniconex has risen from an independent PointClickCare Marketplace Vendor to now having PointClickCare resell the Cliniconex Automated Care Messaging solution to its customers in both Canada and the US.
As I like to say, timing is everything in business. The unfortunate COVID-19 outbreak drove demand for the Cliniconex solution; however, the team was ready to deliver and scale up quickly to provide help to skilled nursing, assisted living, independent living and continuing care retirement communities alike.
With more than 5,000 medical professionals and senior care providers now using its services, Cliniconex triggers more than 800,000 meaningful patient-family engagements each month. The solution helps ensure families stay well-informed about the care their loved ones are receiving, via voice, email or text channels, without the need to log into a portal or call into the home.
Giving back in a time of need
Cliniconex is also very committed to giving back to their marketplace. In an effort to improve resident family outreach during the novel coronavirus, Cliniconex has made the urgent component of their Automated Care Messaging Solution available to clients at no charge until June 30th, 2020.
Another initiative is called Moments For Care – a virtual music concert available to senior care facilities online. Produced in partnership with Fully Managed, this free event is designed to bring moments of joy to residents, care teams and support staff during COVID-19. As said, the pandemic is disproportionately affecting senior care homes. Not having family and friends visit, let alone not being able to socialize with fellow residents, can be isolating and even have adverse health effects for those in senior care. Music has the power to unite, to calm, to inspire and to energize.
Visit the Moments For Care website for a recording of the first concert and to register for the upcoming event on June 25th. To learn more about Cliniconex and their services, visit cliniconex.com.
Wesley Clover invests in a range of technology companies, and they bring impressive innovation to markets and clients around the globe. I/O is our way of sharing some of the best insights. I trust you will enjoy them.

Terry Matthews, Chairman
---